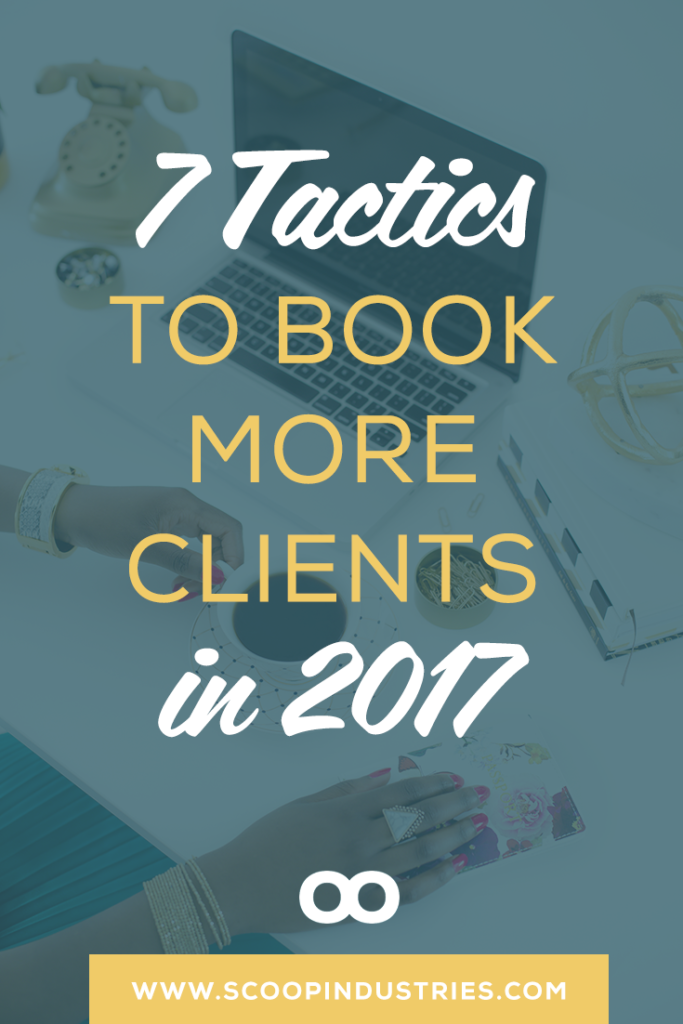 You're oh so ready to grow this year, but the big question is exactly how that's going to happen.

If you work with clients, it ultimately comes down to being able to find and book more clients for your business. Without clients, it's pretty hard to have, let alone grow, a business.

In the the first year of my business, I would always be thinking about where my next client would be coming from, not entirely sure how it was going to happen. I quickly learned that a few small things made a major difference and by doing them, I was able to find clients and generate more revenue.

Whether you're in the first year of your business or five years in, you need to always be working on finding and booking clients.  Of course, there are the obvious things that immediately spring to mind, but what about other things you can do to have people wanting to work with you?

Here are seven tactics to help you find and book more clients:

#1. Position Yourself as an Expert
When someone is looking for a service provider, they are looking for an expert, so for them to hire you, you need to position yourself as that go-to person. (Because when was the last time you hired an amateur?)

There are a lot of ways to do this from niching in a specific area, to having a unique approach, to how you deliver your services. Even if you have a diverse skill set, you want to be known for something and not just as a jack-of-all-trades. Stepping up into the role of subject matter expert goes a long way to helping you book more clients.

#2. Get Certified in Something 

If you want to take your expertise further, look at what potential options are related to your field for certifications or specialized training.

In the first year of my business, despite having years of experience with Infusionsoft, I opted to become an Infusionsoft Certified Partner. This required a week in the classroom at their headquarters in Arizona, and taking an exam, but it was completely worth the time and money.

Since then, I've become certified with other platforms such as AmbitionAlly and ConvertKit, both of which attract clients to Scoop who are looking for specialized help.

Use your certification as a marketing point, and be sure to research how valid or respected the certification really is so it can deliver real ROI and you're not just getting a gold star.

#3. Be of Service

Most of us are involved in communities and other professional networks where we share ideas, cheer each other on, and more. To get the most out of these communities, you need to ditch your personal agenda and take time to be of service.

Instead of carefully plotting how you can promote yourself in a Facebook Group and getting around the rules (or just avoiding engaging in communities at at all), seek out relevant questions from other community members and answer them. The goal of answering questions is to give without an agenda or expecting something in return.

The truth is, when you're of service first and foremost, people will take note and you'll stand out in a sea of sneaky promoters.

#4. Have a Reputation for Excellence 

There's a lot of work that goes into running a services business and it requires some serious juggling. So while you're working on finding and booking clients, ensure you've got time to do amazing work for the clients you already have.

Being great at attracting clients, and then dropping the ball once you're working together, has a lasting, negative impact. Not only is that client unhappy (or has lost confidence in you), but it has a ripple effect as they tell other people and aren't willing to recommend you.

Make it a priority to think about how you can deliver results to your clients and have a reputation within your industry for excellence.  

#5. Make it Easy to Work with You

Finding clients is only half the battle. Once you find them, you need to get them to the yes. This is why you need to pay careful attention to things like your packages, your pricing, and more.

So many times we complicate things for our would-be clients, thinking they'll take the time to go through the details. Fact is, people are busy and aren't always going to delve into the details. If you can make everything from communicating what they get from working with you to how they pay you simple, you'll be able to book more clients.

#6. Master the Art of the Consult

You're soooooo close to booking a client, but now you need to chat with them on the phone.
Let's face it, not everyone is a natural sales person, and for some of us the consult call is going to be stressful, overwhelming and messy.
If you struggle with consult calls and how to make the most of those opportunities to explore working with a potential client, you need a plan! Take some time to map out the flow of your consults, what questions you ask and how to manage the agenda once you're on the call.

Investing time in upping your consult game will pay big rewards as you become more self-assured and each call becomes less painful.

#7. Learn How to Close

We've all been there. Things are going great and then after you have the consult or send the proposal, the client gets cold feet. Or they start to drag out the decision.

By the time a client has a proposal in hand, you're 90% of the way there. Which is where learning how to "close" can help you go that last 10% and get them to sign on the dotted line.

Often, we shy away from the follow-up because we convince ourselves their silence is a big fat NO, or we make up stories in our head.

But as one of my friends says, "It's a yes until it's a no."
Commit to your follow-up and that no matter how long it takes, you're going to assume it's a yes until it's a no. Why? I've literally had people say yes three months after getting a proposal, and that's why you owe it to yourself not to drop the ball or let your fear get in the way.

How you follow-up is entirely up to you, but you want to avoid the whole "Have you decided yet?, Have you decided yet?" communication where you're simply chasing the yes. As you follow-up with potential clients, the goal should be to add value and help them see why working with you would be a win for them.

Finding and booking clients can be a challenge no matter how long you've been in business, but getting laser-focused on these tactics will absolutely make a lasting impact on your business. To avoid getting overwhelmed, pick one or two of the above tactics to get started and go from there.
[embed_popupally_pro popup_id="9″]