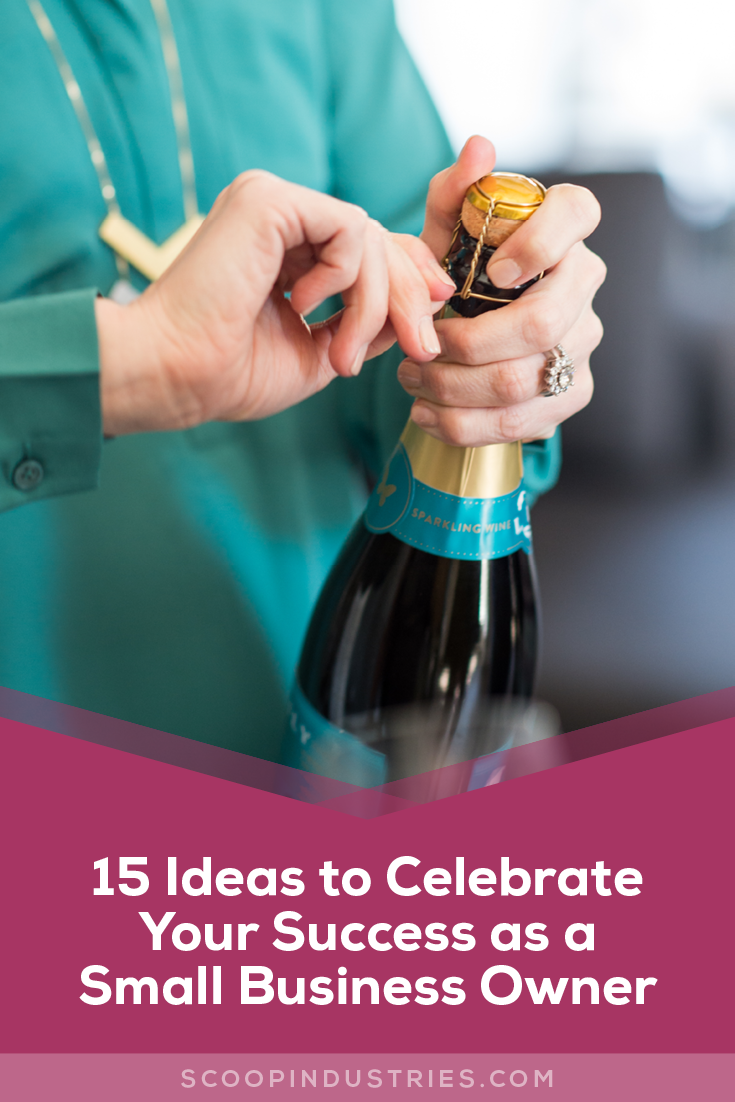 When you run your own business, it's hard to stop and celebrate. I know this all too well. From a month with record revenue to landing a big client to small everyday wins, I'm not great at stopping to pat myself on the back.

Why don't we celebrate? Because we're busy. We get bogged down in the day-to-day grind, chasing the end goal, and we forget to stop and take a minute to acknowledge and revel in the little successes that happen along the way.

But if we don't celebrate, no one else is going to do it for you. So you need to make it a point to plan these celebrations throughout the year to reward yourself.  Set a goal with a specific celebration attached. Schedule a quarterly celebration. Whatever it is, let's all make this a priority!

As we head into a new year, even if you think all the little things aren't that big of a deal, they are! Celebrating helps us recognize where we've been in the past year, what we've accomplished and it also gives us something to look forward to.

And if you're thinking…you've got nothing to celebrate, you do! Celebrate being awesome, how hard you work and how you make things happen every single day.

Best of all, your celebration doesn't have to be an expensive, roll-out-the-red carpet party. It can be as simple as carving out a few hours to kick back and do something enjoyable.
So treat yourself! Make a plan to pause and praise yourself for everything you've accomplished.
And because this is something I'm actively working on, here are some of our best ideas to get you inspired and celebrating:

Treat Yourself
As business owners, we work hard for our money, so it's not always easy to part with those hard earned dollars on something we may think is frivolous. But what better way to celebrate than than buying a little something just for yourself as a pat on the back?
Spend an afternoon wandering at a

local farmer's market

. Treat yourself to whatever you see, whether it's homemade fudge, amazing local produce or a beautiful piece of handmade jewelry.

Buy yourself that

flashy new watch/necklace/pair of shoes

you've been eyeing up but haven't been able to justify spending on. You've earned it.

Go to Sephora or your

favourite makeup counte

r and get a makeover. Buy ALL the makeup too so you can recreate the look at home.

Sign up for a

monthly subscription

for something you love. Flowers, wine, coffee, candy or beauty products – you choose! That way you'll have a fun surprise every month all year long.

Make yourself a box of your very

favourite candies

. All that good stuff you used to love when you were a kid.
Plan An Experience
We all know the feeling of being so busy we can't seem to find the motivation to get up and DO something outside the house. But nothing can compare to the awesome feeling you get when you actually make a plan, leave the house and have an experience that you can remember for years to come.
Treat yourself to

dinner at the fanciest place in town

. Get dolled up, take your favourite person with you and spare no expense. Wine, appetizers, entree, dessert, fancy coffee…have it all!
Make plans with

someone far away that you miss

. Splurge and buy them a ticket to come see you for a weekend of fun doing all sorts of touristy stuff in your town.

Sign yourself up for

that class you've been dying to take

but haven't because you didn't think you should spend the money. Cooking, yoga, cake decorating, wine tasting, or whatever else looks interesting, are all fair game.

Find out where

your favourite band

is playing next and get tickets. Bonus points if you plan dinner out beforehand or make it a weekend away.

Have a "kid" day. Go

do something you loved as a kid

– tobogganing, go-karting or a scavenger hunt, and then treat yourself to an ice cream. Invite your childhood BFF or your own kid(s) along and take a stroll down memory lane.
Take A Time Out
Celebrating doesn't have to just be about buying something fancy or going somewhere flashy. Celebrating can be as simple as deciding to take a time out from the day-to-day grind so you can kick back, relax and enjoy a little down time.
Book a

spa day

. Get a massage, manicure, pedicure and a facial. Don't feel like leaving the house? Hit up the drugstore for your favourite products and do a DIY spa day in the comfort of your own home.
Plan a

girls night in

. Grab your favourite movies, wine, popcorn, chocolate and pjs and spend the night hanging with your favourite people.

Book yourself into a

gorgeous hotel for a night

of complete peace and quiet. Order whatever you want from the room service menu, have a bubble bath and order pay per view.

Go

visit your happy place

, wherever it may be…Disneyworld, your childhood neighbourhood, a city a few hours away, get creative!

Spend a

guilt-free day at home

doing nothing. Take a bath, watch Netflix and order your favourite takeout
Celebrating our successes isn't always a priority, but it needs to be!
As business owners, we're planners and celebrations are something that should always be on the calendar. It's time for all of us to bask in our own awesomeness and appreciate how amazing we really are! For 2017, make a celebration plan and stick to it. You won't regret it.