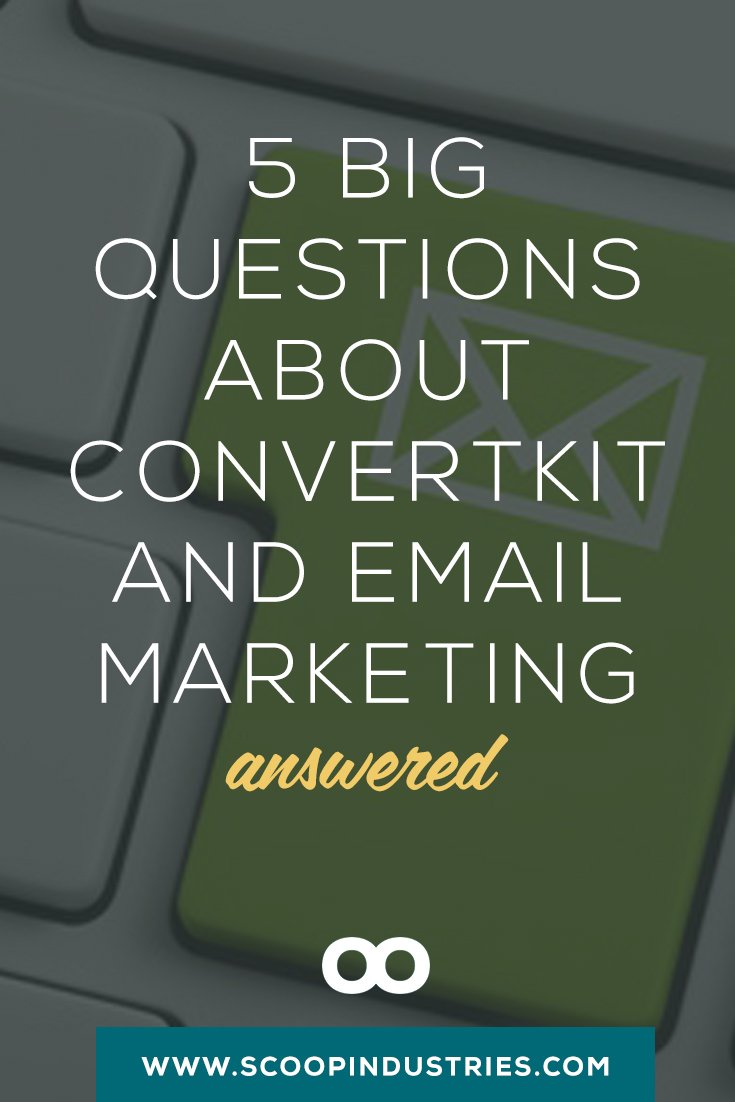 For a lot of us, email marketing is just one more thing on the list, so learning all the ins and outs of any system is intimidating. (Especially if you've got questions about ConvertKit.)
And with good reason.  You want to get your email marketing right and not make some crazy misstep that makes you look bad in front of your biggest fans.
The good news is that ConvertKit is an easy system to use (especially if you use ConvertKit School to quick start your success).
But since I started working with ConvertKit last Fall, I've answered a lot of questions. I mean….a lot of questions. Questions from clients. Questions from friends. All the questions.
Even at my last mastermind retreat, where I held an impromptu ConvertKit training at the dining room table as many members of our group have recently upgraded to ConvertKit.
The questions have a clear pattern to them, so I wanted to write this post to answer some of them in case you have them too!
If you have questions about ConvertKit, you're in the right place. Here are 5 of the frequently asked questions about ConvertKit:
How Do I Create a Nurture Sequence Only for New People on My List?
A nurture sequence is a really great way to get new people warmed up to your list. A series of 3 to 5 emails that welcome them to your brand so they can get to know you, like you, and ultimately, over time, trust you.
But what if you have lots of lead magnets or opt-in offers? You don't necessarily want someone who's been on your list for a while to get those welcome emails every single time, right?
ConvertKit's got the logic for that set up right inside its sequences.
If you have a welcome/new subscriber/nurture sequence and you want to exclude people from getting it if they are already part of your list, then all you need to do is go to the Settings tab inside your sequence and then scroll down to the "Exclude subscribers from this sequence" section.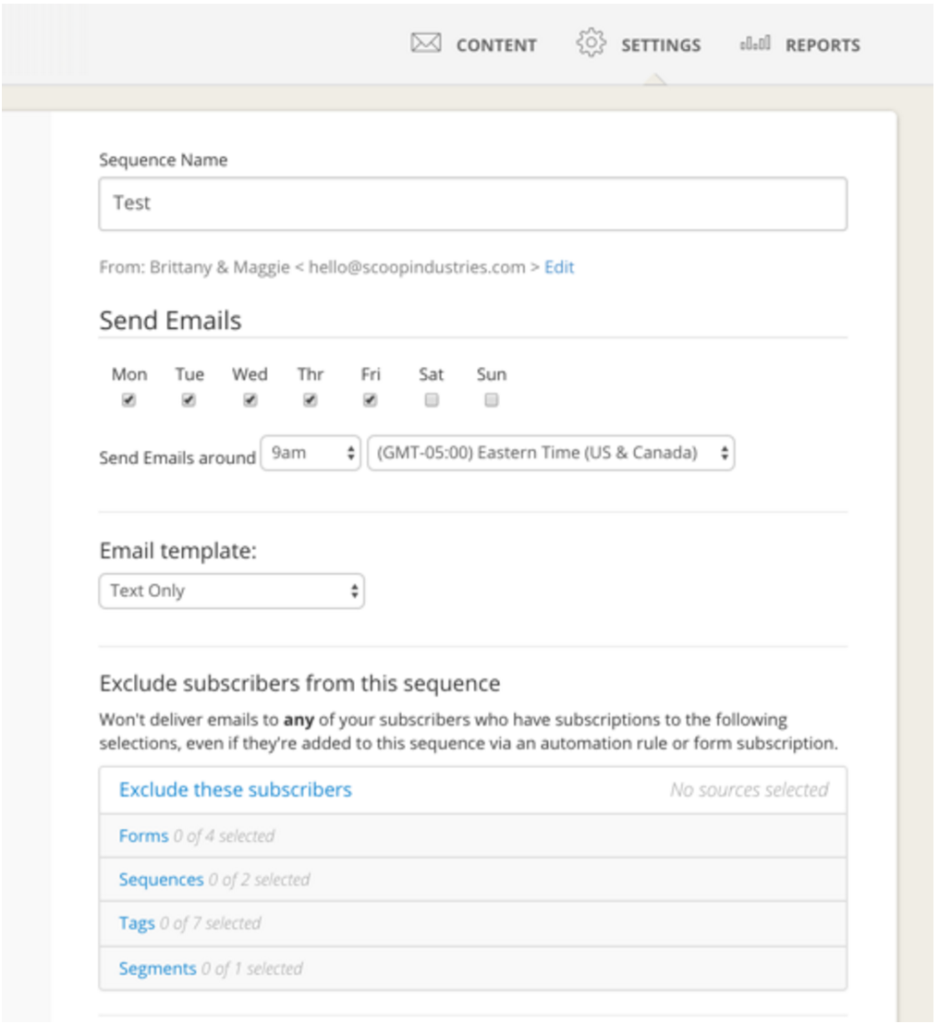 You can exclude people based on forms, sequences, tags, and segments. A simple way to do this would be to exclude anyone who already has your Main Newsletter Tag.  (Power Tip: be sure to add that tag at the END of the nurture sequence so as not to skip anyone.)
How Can I Easily Segment My List?
So you've only had one list up until this point? No worries. There are some super simple ways you can segment your list inside ConvertKit. First, figure out how you want to bucket your list.
What's the most important for your next 30, 60, 90 days of initiatives? For example, if you're going to be rolling out a new offer for DIY web design, then you may want to segment your list with a simple question like "Do you (or do you wish you could) DIY your web design?"
So, how do you keep this data inside ConvertKit and make it actionable? Instead of doing a longer survey inside Google Forms or Survey Monkey, simply ask the question in the body of your email.
Then all you do is create two links, one for each of your answers. You'll also want to make a simple "Thank you" page on your website or Leadpages so that after they click, they are going somewhere.
The link doesn't matter as much as the fact that we're going to apply some automation to what happens when they click that link.
Here's how:
Create a Link Trigger Automation Rule so that when someone clicks a link, a tag is added (you'll need to create your tags as well). You'll do this 2x – once for the Yes link and once for the No link.
Go into your email in your Sequence or Broadcast and find the text you want to link. When you link it, click the "Link Triggers" option to the right of the URL input field and select the appropriate Link Trigger you created in the first step.
Send your email and watch segmentation happen before your eyes.
You can repeat this process multiple times, though it's best to keep it to just one question in an email (vs. trying to fit in an entire survey within the body of an email).
Here's an example of one we recently sent out to our Scoop community: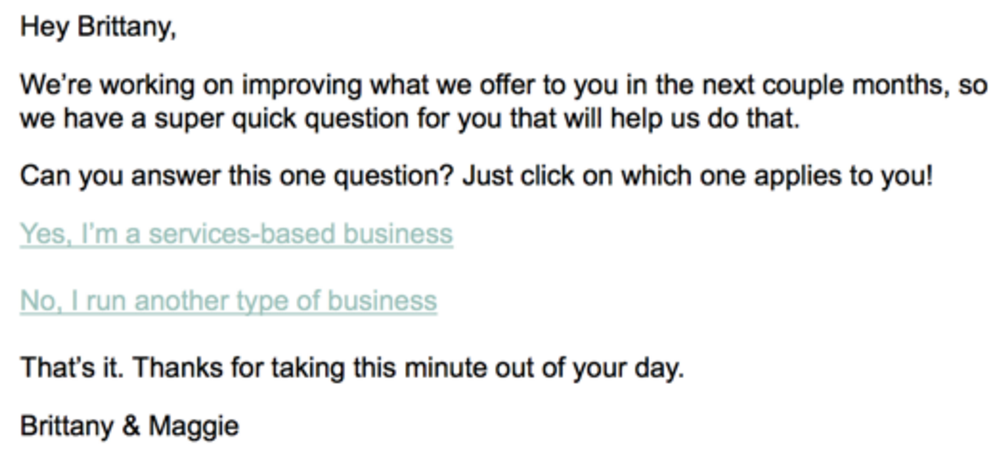 What's the best way to plan out my sequences?
I love this question, and in the interest of full disclosure, we plan a lot of sequences at Scoop! Aside from our own funnels, we spend time every day in the trenches working on planning and executing sequences.
Hands down the best way to plan a funnel is to do it on paper. My favorite way is to do it on a whiteboard or with post it notes. That way you can visualize all the steps in the sequence including where you need to plan out possible scenarios.
I'm planning my launch and want to be strategic with my emails, especially my cart closing ones. How do I do that?
Smart cart-closing emails are crucial to a successful, yet tactful (read: polite), launch. This is a fantastic way to nudge your warm or interested folks while not bombarding those that aren't interested in your current offer at this time.
Using the Link Triggers outlined in Question 2 above, I strongly recommend tracking clicks to your sales page in your launch emails. You can create just one tag such as "Behavior: Clicked on Sales Page Link". That way you can easily see all the people who are clicking on your sales page.
I like to create 2 sequences (at least) for launches. Keeping it simple for this example, let's say you have one main sequence that goes to your main list and then another "Warm Leads" list for all those that have actually clicked.
In this second sequence you can add a few more emails since you know they are interested while at the same time, not annoying the rest of your list.
My favorite "Warm Leads" kind of email is one sent out a few hours before the cart close or the early-bird price going up. No need to bug people who haven't ever clicked, but those that have clicked may just need a simple, but effective, reminder that there is real urgency and scarcity and they need to act now.
I want to send a dated email sequence in CK. What's the best way to do that?
One downside to ConvertKit sequences,at the time of this writing,  is they are only delay based, not date-based. Meaning you can only set them up to send X days after the previous and not on September 9th at 9am.
Delayed sequences are great for evergreen welcome and sales funnels, but what about when you have a live webinar or you have a program that is running live on certain dates?
There are a couple of ways you can work around this in ConvertKit.
The first one is with dated Broadcasts. One thing I personally love about Broadcasts in CK is that their rules apply at the time of sending not the time of scheduling.
Let's say you set up a broadcast to go out to a certain tag on a certain date but you schedule it say a week in advance. If someone gets that tag applied after you schedule it, they will also get the email when it sends. So it's a dynamic set of rules (which in automation nerd-land, this is huge for dated emails).
The other way to do this is not quite as automated, but it works well especially for program delivery where everyone is starting on a certain date together.
Set up your sequence starting with the start date for your program when the first email will be going out. Wait until the day you want the first email in the sequence to go out.
First, set up an automation rule with a trigger tag to start the sequence (Example: "Trigger: Start Program Delivery Sequence"). Find the group of people you want to start in this sequence. Apply your "trigger" tag on the day you want the first email of the sequence to go out.
This will still delay your emails a day/week/etc. apart, but everyone is starting on the same day and hence you can then engineer the actual dates that the emails will go out.
If you start your sequence on June 1st, then one week later will be June 8th, two days after that will be June 10th, etc.
The Recap: ConvertKit Makes it Simple
I love anything that helps make things simpler, and ConvertKit definitely fits the bill – especially now that your big questions about ConvertKit have been answered! If you want to make ConvertKit even simpler, check out ConvertKit School.
Click here to get the details on ConvertKit School now.