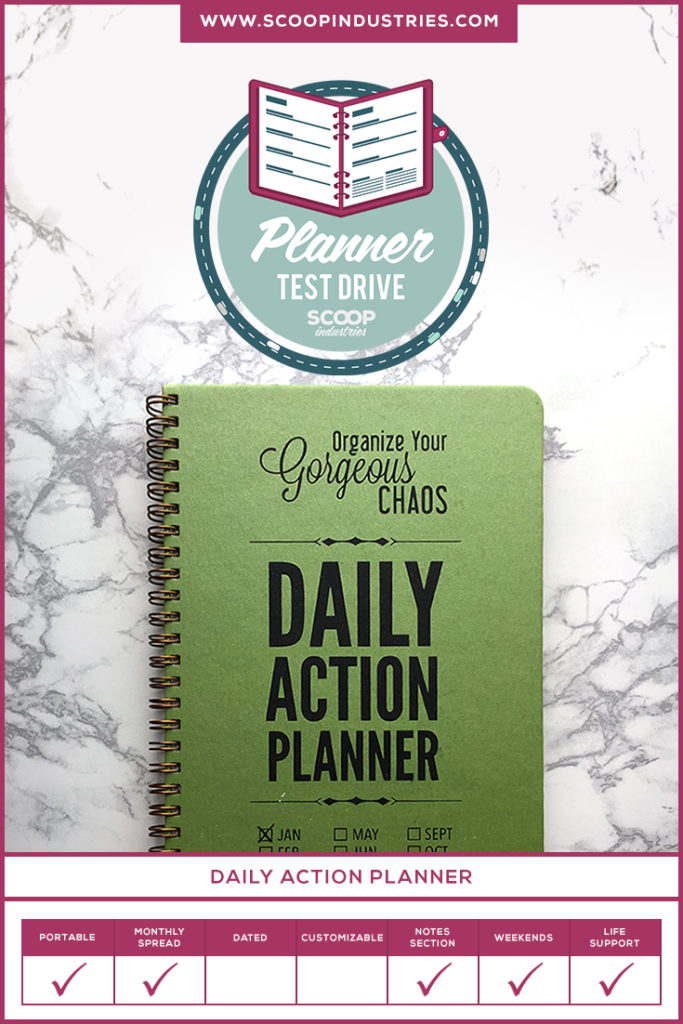 I was introduced to the Daily Action Planner by a member of our Double It Society. She was talking it up during a call and I knew I had to try it. And let me tell you, I'm so glad I did!
The woman behind this planner is Angela Jia Kim of Savor the Success. As Maggie often jokes with me, I live under a rock in my own little bubble oblivious to many of the names that make up the online world. I'm not oblivious to Angela and Savor the Success any longer. Big fan here.
In the beginning few pages of the planner I test drove, Angela shares her story about how the planner came to be and provides some really wonderful examples. And she calls her life "Gorgeous Chaos" – how great is that?! She also uses some great analogies for "planting seeds" and "pulling weeds" which makes planning just a bit more fun (if that is even possible 😉 ).
Planner Specs
The Daily Action Planner I chose to review was the 30 Day version. It also comes in a 90 Day version which I'm seriously considering ordering because I love looking at business and life in 90 day increments.

The planner is pretty compact at 6" wide and 8.5" tall and it's spiral bound. The covers are a thick, sturdy cardboard and they come in a variety of different colors.
There's no elastic band to keep the planner closed, but given how sturdy the cover is, I didn't find that to be a problem with this particular planner. I was able to easily put it in my bag without fear it would open up and explode everywhere.
On the front of the planner, you get to mark which month you're using the planner for which could come in handy if you'd like to keep a collection of all 12 daily planners (or four 90-day planners) to look back on.

The 30 day version is $14.95 and the 90 day version is $39.95 so you're looking at anywhere from $159 to $179 for the year which makes this on the pricey side compared to the others we've reviewed.
My Test Drive
I did this test-drive in January, again in the midst of crazy home renovations. (Yes, my renovations are never ending…)

To say my life was gorgeous chaos during this time was a pretty generous leap. That all said, the planner helped me to keep things organized across both life and business and gave me the feeling that at least I felt like I had it all somewhat under control.
I was bouncing between our house, my parents' house and the restaurant in search of a dust-free, semi-quiet place to work and this planner was a snap to throw in my laptop bag and it was easy to keep open on a coffee shop table alongside my laptop.
What I Loved About This Planner
I loved so much about this planner overall, but three things stand out.
Weekly Pilot Plan
Each tabbed week starts off with a Weekly Pilot plan which has space for a big brain dump, who to delegate things to, top priorities and plenty of notes. I am a BIG proponent of weekly (and daily) brain dumps and getting things out of my head and onto paper.
It's one of the most effective ways to manage my anxiety and I love that it's built right into the week inside my planner. There's also a section where you put in big blocks and priorities for each day of the week by morning, afternoon, and night.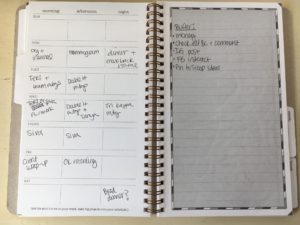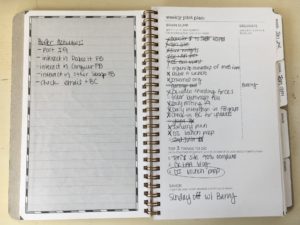 Scribbles & Notes
In some planners, I feel like there's not adequate space to make notes and jot things down as they (inevitably) come up during the day. Not so with this one. Essentially every daily page has a corresponding Scribbles & Notes page which gives plenty of space for all the stuff that comes up during a day.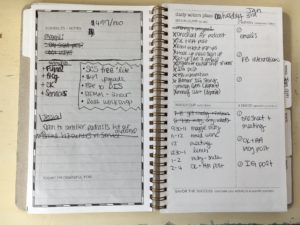 Weeds Section
If you're not familiar with the Savor the Success method, 'weeds' are essentially the unsavory tasks that have to get done, but often get pushed to the bottom of the pile. It's a lot like the Eat the Frog First concept.

I'm personally guilty of pushing my weeds to the bottom of my to-do list and then before I know it, the day is done and my weeds are still growing into the next day, and the next day, and the next…
While other planners tend to call out priorities to stay focused each day, I actually respond quite well to the 'take care of these weeds before they become an overgrown mess' method. It was a great reminder to not let these get pushed to the next day.
Fun Extras
Of all the planners I've test driven thus far, this is the only one that had the setup and section on 'how-to-plan' right in the front of the planner. And while going to a website or blog post isn't terrible, I liked being able to easily flip back to the beginning without having to find a webpage to remind me what sections were.
Like many planners, this one has a section for daily gratitude which is always a grounding practice and reminder that even in the worst of days, we have it pretty flipping good.

There's also a 'Savor the Success' section each day and it's meant to be a place to reflect and celebrate on one fun, enjoyable or successful thing that happened each day. Honestly, I pretty much suck at this and many days it's been left blank, but it's something I'm trying to get better at recognizing, so I appreciated this reminder.
A super simple perk that I enjoyed were the built in weekly tabs. That way you can easily jump ahead to a week without having to use a binder clip or something else as a bookmark.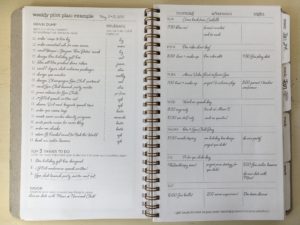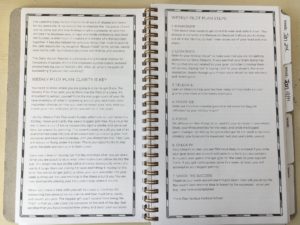 Items of Note
A few things to consider if you're thinking of buying this planner:
There's no time stamped section for a schedule each day. There is a Water Cup section that's meant for your schedule, but you have to place your own time blocks in that section. If you are someone who needs it written in there for you already, this may not be a good solution.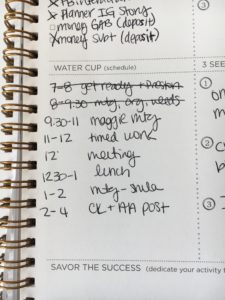 This is a pretty small planner. I didn't feel like there wasn't enough space necessarily, but it's not a big planner where you can fill it with doodles and thoughts – or a ton of to-dos.
If you like having your entire year of planning at your fingertips, this isn't the system for you. (You have the option of a 30-day or 90-day planner so you're not going to have the full year.)
If you're looking for a planner to help you keep all the thoughts, to-dos and ideas in your head straight, this is a fantastic planner to help you do that.

I thought it was a very easy way to blend both the personal and business sides of my life in one view. Also, if you're someone who likes or wants to be a little bit more reflective, yet you don't want to write a journal entry or spend too much time with feelings on a daily basis, this is a thoughtful yet no-fluff planner option.
[embed_popupally_pro popup_id="12″]