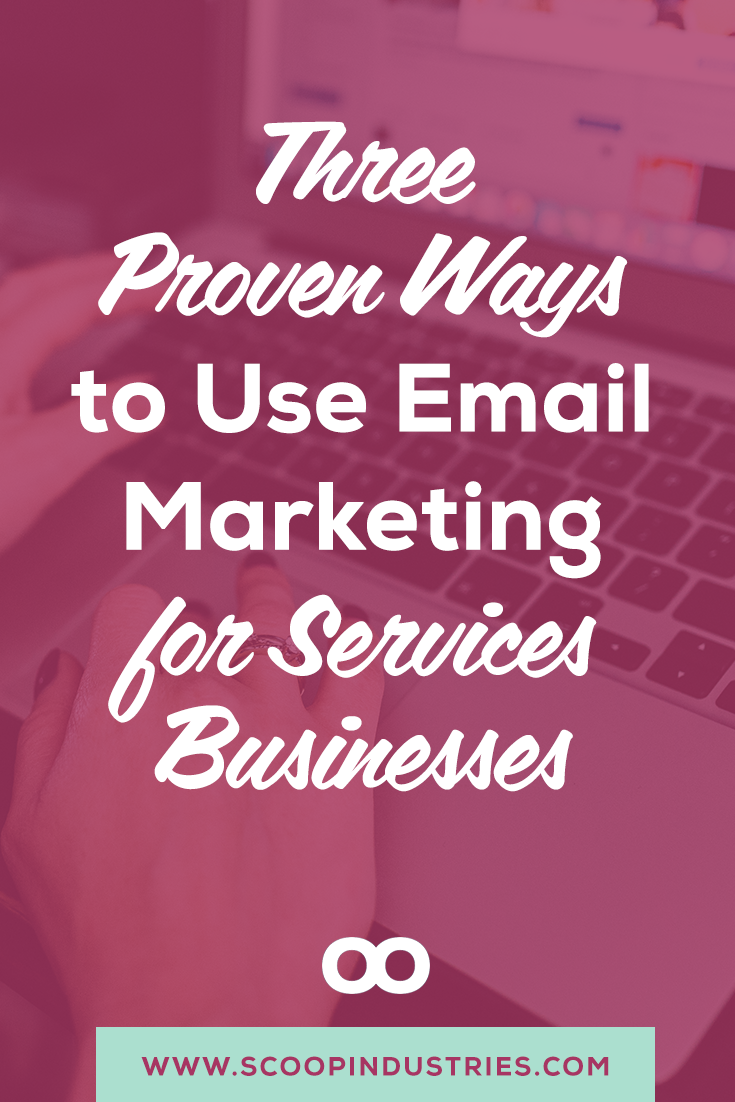 We've had a lot of conversations lately with services business owners about email. Things like…are there ways to use email marketing for services businesses? Should you bother using it?

It's a valid question. And it's not one with a simple answer.
You can listen to this post and our discussion about email marketing for services business owners in this episode of the Inside Scoop Show:

In the online world, list building is nothing short of an obsession. From the idea that  "money is in the list" to people overinvesting in a desperate plea to build their list, it's easy to be swept away in the "shoulds" of email marketing.
But listbuilding and email marketing are two places where it may not translate to your services business. Especially if you're just starting out.
Here's the thing. It takes time to build an email list. From creating an opt-in to setting up your email service provider, to figuring out how to get people to sign up for your list, it's going to take considerable time and effort.

In my experience, when you're just starting out, focusing on building your list for a services business is a big ol' distraction. It's busy work that keeps you going in circles when you could be finding and booking clients.

By focusing first on finding and booking clients, you're going to actually help your listbuilding and email marketing efforts. From those first clients, you'll be able to learn what they really need and the problems you can help them solve. You won't just be creating a random opt-in offer to cross it off your to-do list or to put something, anything, on your website.

Plus, you'll be able to learn if your ideal clients are actually going to opt-in for anything you offer. We find that our clients who purchase schools or programs from us do sign up for our email list, while clients for high-end retainers usually aren't on our email list before they do business with us.

There's no point in creating an opt-in or focusing on building a list of people when your perfect-for-you clients aren't going to bite.

On the flip side, email marketing for your services, when done with some real thought and intention, can be unbelievably powerful. Here are three proven ways to use email marketing for your services business:
#1. Use Your Opt-In to Identify Qualified Leads
Creating an opt-in or freebie to get people to sign up to your email list is one thing, but the real question is are those people actually qualified leads for your services.

There's absolutely no point in having the most spectacular opt-in to build your email list if those people aren't a good fit. Or are not interested in what you have to offer. Or worse yet, are never, ever, ever going to buy from you.
With your services business, the goal of your opt-in should be to attract perfect-for-you clients that are indicating interest in what you have to offer.

But how?

It starts with creating an opt-in that solves a real problem they have, and is the same problem you help to solve with your specific service. The goal with creating your opt-in should be to be specific and helpful with your content, and to deliver it in a way that's going to be of service to your would-be client.

#2. Create a Nurture Funnel to Move People Into Consults
Creating your opt-in is really just the start, but the very last thing you want to do is to get someone's email and have them never hear from you again.

Which is why you need more than an email right when they sign up! You're missing a golden opportunity to help your new prospective client know, like and trust you. And when they do that – they are MUCH more apt to do business with you in the future.

A nurture funnel is a series of emails that will help people put your opt-in into action and share content to build the know, like and trust factor. From there, you have the opportunity to drive them into a consult to discuss your relevant or related service.

For example, with our Storytelling Shortcut opt-in, we have a series of emails on storytelling, and then there's an offer to get on a call if they have questions about how the Story Distillery can help them. It's not a discovery call, but a call for them to see if the service is right for them, with an eye on having them book the service when they're done.
#3. Launch Your Services to Your List

You likely see online program or product launches happen all the time.  Launches are effective as they help to introduce new services to your email list, and can help you create urgency with a special offer.

Launching can also be effective for you to share your services with your email list. Your email list are already fans who've expressed interest, so why not let them know first or offer them opportunities to do business with you.

This doesn't mean your emails need to be pushy or sleazy. Just the opposite – you can share your services in a helpful, useful way that lets would-be clients learn more about your offer and explore if it's right for them.

You may find that people don't know you have a certain service, are actually looking for something you have to offer, and your emails help to remind them.

Finally, don't just send one email and call it a day. Consider how you can send a series of emails for your "launch" to help your email list learn more and make an informed decision.

Best of all, this works with a small list as you're not selling hundreds of units, even two or three bookings can make an immense impact on your bottom line.
If you're at the point with your business – even a services business – where you want to dive more into email marketing, then we've got an amazing bundle we're releasing for a limited time this Friday – November 25th.

The Better Together Bundle gives you DOUBLE the email power with two of our email focused DIY courses – Email Marketing School & Funnel School. You'll get both of these schools for only $147 – that's over 60% off. But for four days only as this promotion runs November 25, 26, 27 and 28th only.

Click here to get on the VIP list now to be notified as soon as we're ready to roll on Friday!