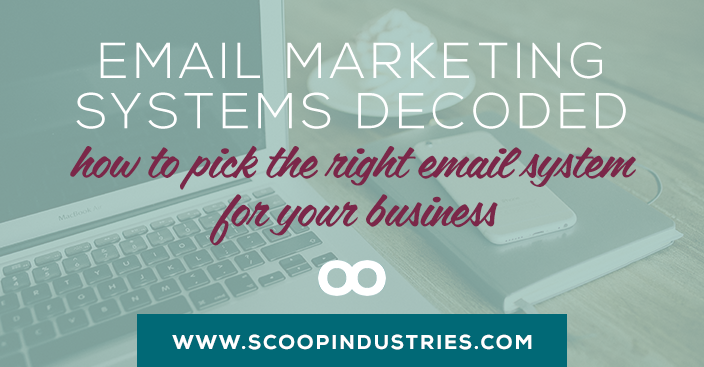 You know you need an email marketing system, but which one do you choose? And what happens when the one you have isn't quite cutting it anymore?
OMG. So many options!
Let's face facts. Email marketing is the engine for so much of what you do when you run an online-based business, and if your email system isn't doing what you need it to do, it can result in a lot of frustration and lots of wasted time.
You've got stuff to do, and you need your email marketing system to get the job done!
Below I decode the different types of email marketing systems to help you figure out which one to pick, and when it's time to upgrade. And, while I'm an Infusionsoft Certified Partner, I recommend all of the systems I talk about below – having the right system for you is always my core focus. (After all, you're not going to trust me if I tell you you need Infusionsoft so I can get a commission, now will you???)
Starter Email Marketing Systems
You're starting out with email marketing, and just getting going with building your list.
The Right Solution:
MailChimp or Aweber
The Need to Know
These systems are designed for basic email marketing. That means you'll have what you need for a subscribe form, a basic email list and sending out emails.
You can also set up autoresponders with both, but Aweber offers a little more flexibility. If you need a single opt-in with a single autoresponder, these both work well.
Limitations
One thing people need to keep in mind with these systems is that they are "list" based. That means someone can be on multiple lists and you're going to send them multiple emails. This isn't typically an issue until you're at the point where you have several opt-in offers because then things get a bit messy.
Typical Cost for 1000 Subscribers
MailChimp = Free to $30
Aweber = $29
Signs It's Time for an Upgrade
When you're spending time moving contacts around, you may need to consider an upgrade. Also, if you're running into situations where you need to come up with a workaround using Zapier or something else more often than not, you may have reached the cap of the functionality for your system.
Stepped Up Marketing Systems
Your list is growing (woo hoo!) and it's a big part of marketing and business strategy, so you need something that gives you intelligent functionality without breaking the bank.
The Right Solution:
ActiveCampaign or ConvertKit
The Need to Know
Your stepped up system may be all you ever need depending on the type of business you're running. (Awesome, right? A system that grows with you is dreamy!)
These systems use what's called tag-based segmentation. This lets you give each subscriber a tag so each person/email is in the system once. The tag indicates what actions they've taken from clicking on specific links to subscribing for multiple offers.
With tags, you're able to effectively sequence emails and provide a better experience for your subscribers. Instead of needing to manually move people around, you can get the program to handle it for you.
For example, if someone signs up for your latest content upgrade you can have them go through the corresponding email autoresponder and when they're done, you can have them automatically moved to just getting your weekly email updates.
Both ActiveCampaign and ConvertKit include standard opt-in forms that you can embed on various locations on your site. This is a huge time saver as you don't necessarily need a developer to integrate them on your site. (Depending on your level of tech savvy of course!)
ConvertKit has gone one further by providing two features we love: landing page template (so you don't necessarily need a tool like LeadPages) and suggested emails to include in your various sequences.
Limitations
Neither of these systems include e-commerce as part of the solution. ConvertKit does include integration with GumRoad and using Zapier, you can do some integrations with PayPal or Stripe. If you need a shopping cart or a robust ecommerce solution, you may need an email system that includes e-commerce.
Also, these solutions don't include an affiliate platform, so if that's part of your marketing plans, these may not be a good fit.
Typical Cost for 1000 Subscribers
ActiveCampaign = $17
ConvertKit = $29
Signs It's Time for an Upgrade
If e-commerce or a shopping cart are a big part of your business, you likely need something more robust. It all comes down to how comfortable you are with needing to plan out the various pieces and figuring out how to integrate each piece. (That said, there are sizeable businesses running on these systems and they are a great option!) If you want to give one of these a whirl, you can get a FREE ConvertKit trial right here.
All In One Systems
At this stage in the game, email marketing is likely a critical part of your business. Which is why you're ready for an all-in-one system as you don't have time anymore to stick things together with the digital equivalent of duct tape or staples.
The Right Solution:
Infusionsoft or Ontraport
The Need to Know
Both Infusionsoft and Ontraport are powerful systems that offer you a single place to manage multiple functions including: email marketing, customer relationship management, partner/affiliates and advanced marketing automation.
They also offer complete e-commerce functionality including: shopping carts, order forms, discount codes, payment plans and more.
Each of these systems are quite different on the inside so you'll want to test drive before you commit, as they really depend on how your brain works! Infusionsoft tends to be more visual with its Campaign Builder while Ontraport follows a more linear sequencing layout.
One of our favorite things about Infusionsoft is that it offers a very open API which allows for supreme sophistication with some code or an integrator such as PlusThis. APIs allow you to get various systems to talk to each other such as GotoWebinar to Infusionsoft or DocuSign to Infusionsoft. (This is like Zapier on steroids – typically goes far above and beyond what you can do in Zapier).
Ontraport also offers an open API, but not as many integrations as Infusionsoft (Geek note: this is primarily because Infusionsoft has been around longer and more developers have worked with Infusionsoft to create integrations utilizing the API).
When it comes to your email, both systems offer the power to create complex sequences for sales, drip campaigns and so much more.
Limitations
Neither of these systems are things you can get started with in an evening. They require training so you're able to use the features to the fullest and as a tool to really grow your business.
With Ontraport, you can get started without any training required by the company. This may save on setup costs out of the gate, but if you decide to DIY, plan for some learning curve.
Infusionsoft requires you to either purchase through a partner (most of whom provide that startup support) or if you purchase through the company, that you also buy their kickstarter package. This increases initial costs to get going but can ensure your initial setup is done right.
Typical Cost for 1000 Subscribers
Infusionsoft = $179+
Ontraport = $79
When You Shouldn't Upgrade
As an Infusionsoft consultant, I've had many clients come to me after buying Infusionsoft feeling completely overwhelmed and stuck with technology they don't really need. Don't buy an all-in-one solution because you "think" it's the thing to do or because you have nebulous plans in the future.
Buy it only if you have a clear plan of how you're going to use all of its functionality because otherwise it's going to be an overpriced email system.
Also, these systems come with a learning curve. So you need to be ready to either get training to learn the ropes or have the budget to pay a professional to help you.
The Recap: Choose the Right Solution for YOUR Business
Not every email solution is right for every business. Do your homework and really understand the pros and cons of each one before you decide, and definitely avoid crowdsourcing the decision. It's easy for people to recommend a solution, but unless they have specific knowledge of your business and needs, you may end up with the wrong system and a case of buyer's remorse.