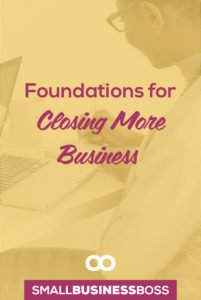 Sometimes our problem isn't finding clients, but actually closing more business. For so many reasons the close is something we dread so we do it in a way that's awkward or less than smooth. In this episode, we're talking about some of the fundamentals you need to master to close more business.

Here's the scoop from Episode #79:
Closing. It's such a loaded thing and makes many of us sweat. If this is you or you have had those times where it got to the close and you fumbled it, you're not alone. But it doesn't have to be this way – like every other part of your business, confidence, and systems can go a long way.
This is a skill in your business to learn – the same way you learned color theory or copywriting or whatever your profession may be.

These take practice, but investing time to get super comfortable can have a massive impact on your business – the better you get, the more business you will have.
Things to let go of:
The idea that

you're being pushy:

Reframe it like this:  if you go to the doctor and suggest medicine for you, are they being pushy or are they being helpful?  Yeah.  Enough said.  You are suggesting things to your clients to help their business and meet their needs, you are being helpful. They came to you with a need and you are helping to meet that need.

Diminishing your awesomeness:

We tend to play down ourselves, especially with certain personalities or triggers.  Stop the conversation and ensure they understand the value that you bring to the table. They are talking to you for a reason so own that – you are in business for a reason.  When you get a compliment, just say thank you.  Don't diminish.  You can practice that now.

The goal is to

frame it so it's about BUSINESS

: Business is business. Be assertive, especially if you are the kind of person who is a giver.  Frame the whole conversation as a business one and stick to the timeline and subject.  It will do wonders.
 
Make sure you are:
Clear and confident in your pricing. 

Be sure you are consistent in all your communications, be they proposals, calls, etc.  And don't apologize for whatever it is you are charging. Get comfortable with silence after you have stated your price. Don't backpedal – if you are wavering, the clients will pounce. You need this to grow your business. If people need a payment plan, they will ask. You can then decide if that works for you.  

Have specific deliverables and results to reference. Packages are very helpful. We talk about them

here

,

here

and

here

. When you are able to say exactly what you are going to do and what results they are going to achieve, clients will be way more comfortable giving you their money.  

Follow up in a friendly, helpful way. 

Don't mistake silence for no. It isn't no until you hear no.  Develop a plan for how you will follow up with every client and have a series of canned emails already set up to use (join the

Small Business Boss Society

and we have already done 3 scripts for you to use!). Automate the process (through calendar reminders, spreadsheet, task in your system, etc.) and you won't forget to do this.

Overcome objections and know what's negotiable and what isn't. This is where it can get tricky. You need to know what is negotiable for you. For example, we always go in with the payment plan that works best for us. We may negotiate on that, but it makes everyone feel like they have some power.  Some prices are and some are not. Figure out what works for you ahead of time.
Know what needs to happen next and communicate it effectively:

 This is especially important if there's time sensitivity. Be clear about what you will do and by when, both on the phone and in writing. Be sure to add that in order for you to do your thing, the client needs to do theirs. If certain things happen (like the client ghosts on you or if life just happens), then this will impact the deadlines.
Thanks for listening and tune in next week for a discussion about how to with your client experience!
Links for this show: