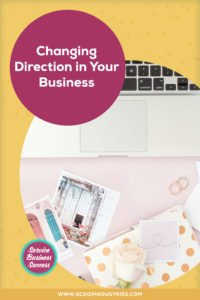 Sometimes you need to change direction or press the reset button. But how do you do that without it looking like a hot mess from the outside? We tackle that exact question today as well as sharing a reset that impacts you as a listener of this show.
Speaking of changes, starting today, the Inside Scoop podcast will be called the Services Business Success show. Listen to find out why!

So…what does this change? Not much! You'll notice new cover art and naming for the shows, and that's about it. If anything, this cements our focus on you, the service business owner for the long haul.
Here's the scoop from Episode #49:
Keep changes factual, you don't have to explain

Be careful about what you do and don't share as things evolve

Realize that people aren't paying all that much attention to you

Avoid the temptation to dish up all the details and your rationale – own your decisions
And if you have missed any podcasts and want to get caught up, you can find all of our previous episodes on our new Podcast Hub.
Links for this show:
Join our Services Business Success Facebook group for all of the latest updates here: https://www.facebook.com/groups/servicesbusinesssuccess
[embed_popupally_pro popup_id="9″]