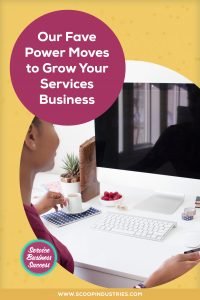 If you're the type of person that starts a business in the first place, then you're most likely the type of person who wants to keep that business growing. (Or at least find ways to make what you're doing more efficient.) In this episode we're dishing up the scoop on our fave ways to grow your services business – including a few that may surprise you.

Here's the scoop from Episode #55:
The power of focus:

Trust us – this works.  Efficiency and productivity skyrocket when you focus on what is in your plan and don't let your mind (and energy) wander off into new ideas constantly.  

Planning properly:

 Make time in your calendar planning but not just anytime.  Allow for prime times of working on high brain tasks and low brain tasks – depending on what time of day you work best. Adjusting for the seasons (of year and life). Makes us waaay more efficient and more efficient = more business (or more time to do what we want).

Letting go of things that aren't working:

Skip the ego and know when it's time to move on or put things aside for later.

The 12 Week Year:

We've managed to do more in our business by working in 12 week sprints and shutting out everything that's NOT in the plan than ever before. #obsessed

Referrals:

Hands down as service business owners this is the best way to go. Work your current clients, and others in your network but trust us – people will happily refer. (check out our helpful resource at the end of these show notes).  

Listen to prospective clients and act on what they need vs. what you think they need:

By listening to our clients, prospective clients and audience, we can gain valuable insights. a few quiet minutes spent listening, truly listening, can mean more for your bottom line ultimately.
There are lots of ways to grow your business, but after many years of experience, these are our favorite (and let's be honest, inexpensive) ways to grow in whatever way works for you.
Links for this show:
Click here to check out the 12 Week Year right here.
If you missed any podcasts and want to get caught up, you can click here to find all of our previous episodes on the Podcast landing page. 
Join the Services Business Success Facebook group for all of the latest updates here. 
[embed_popupally_pro popup_id="16″]