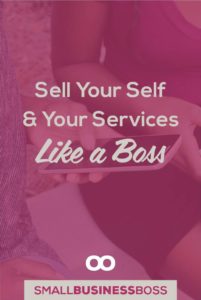 If you're running a small business and providing services, you absolutely need to be able to sell yourself. Otherwise, the road to booking clients is way too hard. In this episode, we're continuing our Sell Your Services series with a look at how exactly to sell yourself and your services like the boss you are.
Here's the scoop from Episode #64:
Not everyone was born knowing how to sell. It's something many of us needed to learn through jobs we had early in our careers. We needed to understand that we need to come from a place of helping vs. "selling".

The bottom line is that we have to learn to sell ourselves or we're going to be struggling. How do you act like the boss you are? Let's break this down:

Know Your Worth (Seriously!):
Really understand what your services (not you personally – your services!) are worth in the marketplace.

Get to know your market and find out what services are going for. Whether it is specific services or project pricing or whatever – know what is happening in your particular industry.

Ignore that little voice in your head telling you that you aren't worth something – if you have done the research, then be confident.  
Be Confident:
Learn to command the room or take control of the conversation – it's all about word choice.

Be a little stronger in your word choice – look at your tone and pick stronger, more powerful words. And don't over explain!  Trust us…

Allow pauses in the conversation – don't fill the spaces.

One of the best tactics in negotiations is being the one that's okay with the silence and letting the other one talk first.

Be okay with saying "Let me think about that".

Learn how to transition to the close and own the next steps (

we talked all about this in Episode 62

).



Packaging:
Great packages make selling SO much easier! It almost even doesn't feel like selling.
Set Yourself Apart:
You are the expert – you tell them how you are going to help them.

Also be clear on why they should choose you (this is critical!).

Being able to communicate that puts you in charge of the sales process and also puts you head and shoulder above everyone else.

Don't shy away from using examples of what you have done in the past. Tell them about the amazing results you have achieved in the past. Let them know all about how you rock!
Bottom line – you don't have to justify that you are good at what you do, beyond a certain point. After providing some basic context, If someone is hammering at you in the consult, you probably don't want them as a client. After all is said and done, be confident, know your worth, ensure you have great packages to sell, and make them realize that hiring you will be one of the best decisions they make.
Links for this show:
If you missed any podcasts and want to get caught up, you can click here to find all of our previous episodes on the Podcast landing page.