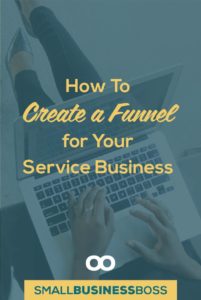 If you have a services business, you may think you don't need a funnel. But you can totally use a funnel to help you book your services. In this episode, we're going to share how to get started with a funnel.

If you've been online at all you know funnels are hot. And you may be trying to ignore them, but funnels are essentially a sales or lead nurturing system – and they are nothing new. We're wrapping up the Sell Your Services series with one way to get more consults on your calendar.
Here's the scoop from Episode #65:
FACT:  Consults most often lead to sales and who doesn't want more of that?   So let's break this down:

When:
Now, we are going to say upfront that this is episode is really for those who already have an email list and an opt-in on your site. Or, you have

a lot of website traffic because basically, this is a numbers game.

Setting up a funnel can be a lot of work and if you don't already have either of those, it may not be the best tactic for you.
Why:
This is a golden opportunity to woo people, especially if you have even a handful of people opting in because you know they are already interested

.

Engage with them and get them to know, like and trust you.
What:
We aren't talking a fancy system here.  It is a series of emails that connects an opt-in with one of your services

These emails warm them up and then invites them into a consult

This is just another touch point to nurture your client. You are NOT selling anything but inviting them to a consult for your service

The opt-in absolutely needs to have a

clear connection

to your services.

For example, on the Scoop Industries website, the storytelling shortcut leads directly to the Story Distillery product.
How:
So, what do you need to get started?

Email service provider (if you have an opt-in, you are obviously already going to have this).  Some we like are

MailChimp

(which is free),  

Constant Contact

, and

InfusionSoft

but

ConvertKit  

is our favourite.  In fact, we have a

ConvertKit free trial

if you want to check it out.

Lead magnet – this is is an incentive you offer to potential buyers in exchange for their contact information such as name, email, phone number, etc. Now, don't give away too much with this – just enough to get them interested. (If you don't have this, then the funnel tactic really isn't for you.)

You need a plan for your emails (5-7 of them), with a clear idea of when you are going send them.

Finally, you need a place for your opt-in to live.  We suggest a landing page or opt-in box software like

PopUp Ally

(our favourite).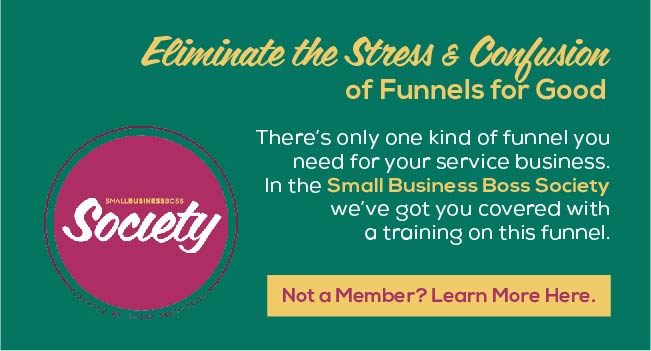 And, if you're thinking wow- this is way beyond me, don't despair. You can still use a type of funnel. A low-tech funnel – even a contact form that sends messages to your inbox — and you actually follow up with them — is a very simple non-automated funnel that can help you sell your services. Just make sure you have it mapped out so you know when to follow-up next.
If you want to follow up on anything we talked about, check out the links below and tell your friends about us!
Links for this show:
If you missed any podcasts and want to get caught up, you can click here to find all of our previous episodes on the Podcast landing page.