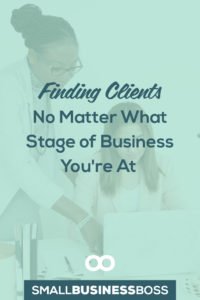 After you've been in business for a hot second, it's easy to get complacent when it comes to finding clients. After all, you've been okay so far…so it will all work out, right?  In this episode we're talking about the realities of finding clients once you're not so new to the game and how to keep that activity going for the long haul.

Here's the scoop from Episode #78:
If there's one thing we've learned is that finding clients is the one activity you can't take your focus off of as a small business boss. You get busy so you don't work ON your business and then suddenly you wrap up a few projects and you hit a lull. (Totally been there, done that!)

So instead of freaking out, let's get you focused on getting new clients coming to you regularly.
Mindset Matters
Now, before we talk tactics, we do want to talk about your mindset. You need to believe new clients are going to come your way – that positive thinking goes a long way. Negative self talk isn't going to help and needs to stop.  

The truth is that there's some margin for magic when it comes to having the right clients show up. Yup, magic. And you NEED to believe it's going to happen, and then back it up with the right actions (because while believing it is essential, you do have to actually take action for it to happen).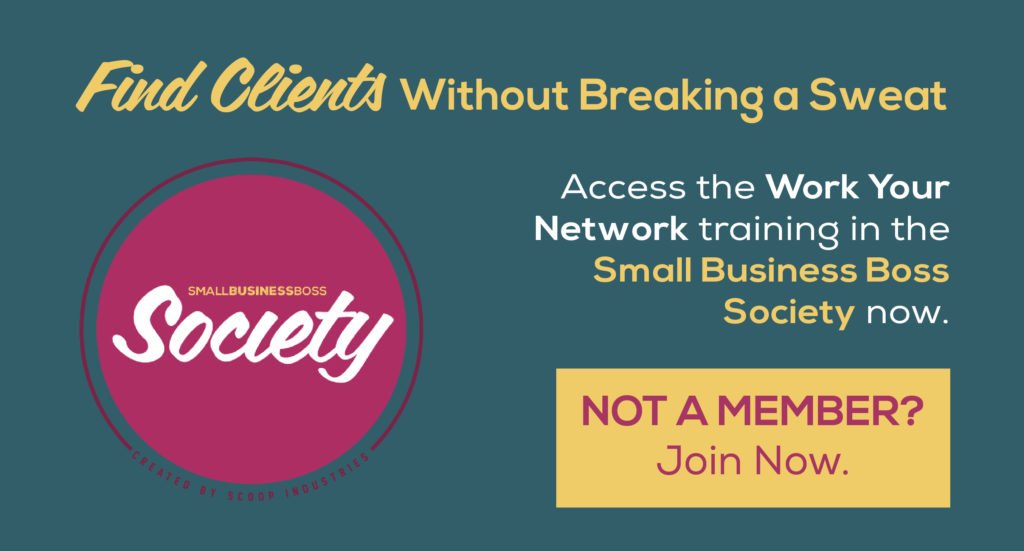 Finding Clients
We sound like a broken record but we do it because it is true!

Referrals

. These are soooo important. Be proactive and ask for them. Seriously. And use them. They are a gold mine.

Reconnecting with old clients.

Network with them so you can stay top of mind and book you again. They can even recommend you to someone. Set calendar reminders and build it into your business cycle. Make it a habit and be sincere.

Be seen

– don't hide in your office (yes, we are guilty of this too). It is easy to hide out when you are a small business owner.  YOu get good at it for awhile and then the excuses come up. So go where your clients are. It doesn't have to be a big fancy conference – there are lots of smaller places and you just need to find them.

Get active in online communities

and be a rockstar member – people will notice, and they'll remember you. And we mean where your clients hang out, not your friends. If people see you providing good, solid advice online, they will look you up and hire you. Leave what we call "breadcrumbs" online (like comments on a post, etc.) so people can find you. Just be sure you act the same way online as you do in person.

Get on stage

– speaking is a great way to find new clients as you're clearly the expert. We know this can be terrifying for people, but it doesn't have be at large conferences and talking in front of thousands of people.  We mean speaking at the local business breakfast where there are very small groups but they are potential clients and local connectors who can hook you up for potential clients. Join us on this journey and find local associations where you can get on their agenda.
To wrap this up – talk about making these activities into an ALL THE TIME thing. To create processes and SOPs so they are ongoing. Make these activities the norm – a habit – and not the exception.
Thanks for listening and tune in next week for a discussion around how to close the deal now that you have found your clients!
Links for this show: