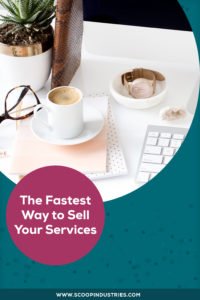 When you talk to potential clients are you all kinds of awkward? Or do you start to sweat when it comes to talk about the price or why they should choose you?
When you run your own business it can be easy to get stuck in a rut. You're used to doing things a certain way, sometimes to your own detriment. And we all have our hang-ups, whether it's getting super nervous before you present to a client or feeling shy when it's time to try and close the deal.

If you're someone who has trouble "selling" yourself, the idea of mixing it up so you can book more clients and grow your business can seem like a daunting task.
But there's good news! You don't have to start changing everything all at once. With a few minor adjustments here and there you can set yourself up to be more successful.
We're sharing three tips to make selling your services and landing new clients so much easier!
#1 Position Yourself as an Expert
People hire experts, because not only do they want someone to do this for them, they also need to know you're the right person for the job.
Showing you're an expert isn't about flashing your credentials. Most clients aren't going to care that you got a bachelor's degree in a semi-related field 10+ years ago. It's about sharing your backstory and experience to show what you've done up to this point.
Potential clients want to see the results you can deliver. They want to see confidence, and they want to see someone who conducts business with authority and certainty.
So if this is not your forte, that's ok. One of the great things about this tip, in particular, is it's something you can work on and improve. And like anything else, the more you do it, the easier it will get.
Start by writing out the results you get for your clients, why they should hire you and why you're the most amazing person to work with. Then practice it, repeat it time and time again and refine as you go.
#2 Meet Your Would-Be Clients Where They Are
You know where your clients aren't? They aren't hiding in the laptop that you're lurking behind.
Running an online business and dealing with people in a virtual capacity all day can sometimes lull us into complacency when it comes to meeting up with real, live people. (Trust me, I know all about this as I like to stay home!)
And even if your business isn't solely conducted online, if you are working in a non-traditional setting where you spend a good amount of your time running solo, you can easily avoid people and get disconnected.

Fact: You can't just sit back and wait for the internet to magically send you clients. You need to get going and show up wherever your clients hang out. (Online or in-person.)
Networking can be one of the best tools in your arsenal when it comes to growing your business. Even if you aren't meeting potential clients all the time, being involved in a community with other people in your field gives you the opportunity to get your name out there, and that can eventually lead to referrals or collaborations.
Where should you start?
If you want local clients? Go to local events.
Looking for online clients from all over the world? Get active on social media and in the groups where they hang out.
Maybe it's corporate clients you're after. Spend some time figuring out where they hang on online and in person.
To meet your clients where they are, you need to make an effort to find your people and spend time in the circles they run in.
#3 Create Packages to Make the Sale Easy
You know that moment when you're so awkward on the phone with a potential client? Usually, this is when they start asking money questions and suddenly things get weird as you're super uncomfortable.
Packages take away SO much of that as your potential clients know what you offer, how you do what you do and even how much it costs. All before you get on the phone!
Having packages moves the consult call from the place of explaining all the details to a focusing on questions and seeing if you're a good fit to work together.
Packages can also save you time. You can actually avoid consults with clients that don't have the budget for your services. If it's not a fit due to pricing, it's better to know that right at the outset before you spend 30 minutes extolling the virtues of your business only to find out their budget is a fraction of what is actually needed to get the work done.
With a package, you need to outline everything that's involved, why you're the perfect person to do it,  and the results they can expect.
And don't forget the price – if you hate talking money – making sure they know the ballpark price before you get on the phone goes a long way. Even a "starts at" price helps put a clear container around things as if they want to pay $500 for a website and your prices start at $5k, it's just not going to work.
Let's Get Into Action
Action is where it's at, so for you to sell your services get clear on which of these three tips you work on so that selling your services becomes simpler.  Pick one of the above tips and get going today!
[embed_popupally_pro popup_id="16″]