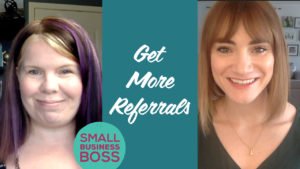 Do you want more clients but you're not quite sure how to find them?
Here's a little truth for you.
The fastest way to get more clients is with referrals. You can quickly get qualified new leads by asking your happy clients to send you more clients. (Yes, it could be that easy!)
In this post (and accompanying video) we break down the who, how and when of making referrals a reality.
#1.  Who to Ask for a Referral
You're ready for referrals. But who do you ask?
It's time to make a list. Yes, we're serious.
Get out your pen and paper and start brainstorming. It sounds a bit old school, but the purpose is to kick-start the process and start jotting down ideas.  
Start with your inner circle. These are the people who know you and your work. They already know the quality of what you do, and will be confident that if they referred someone to you that you will treat them with care.
If you have clients, start with the clients you have right now. They know what you can deliver, and you've already had the chance to surprise and delight them. Who better to refer a potential client your way than someone who is currently using your services?
Next, look at businesses you've collaborated with in the past. (That's actually how Brittany and I started working together – by referring our clients back and forth.) Businesses you've already worked with already know you do great work.
If you're just starting out in business, take a look at your personal and professional network. Who can speak to your skills and the results you deliver as a professional?
Spend some time thinking about past clients (even in other roles/past jobs), bosses and collaborators. You may need to get creative, but you never know who may know your ideal clients and can send them your way.
Remember, with referrals, the more people you ask the better! Cast your net wide to really make referrals work for you.
#2. How to Ask for a Referral
Now that you know who you're asking….we need to figure out HOW to ask them.
Everyone is busy so you want to make it super easy for whoever you ask to say yes and make an introduction. (Remember, you're asking them for a favour so make it as painless as possible.)
The best way we've found to ask for referrals is to clearly state that once a simple introduction is made via email, you'll take it from there.
You don't need the person referring you to explain in great detail why they should work with you or what exactly you do. Simply ask them to make the introduction, and you'll do the rest.
This is important when you offer services as many times your clients may not even fully understand the extent of what you do or how you do it. They just know that you make their life easier by doing it. (Especially when it comes to things like accounting, legal work, web development and technical set-up.)
#3. When To Ask for a Referral
So far so good…but let's face it, asking can be tricky. You don't want to be a Pushy Patty that's all about getting what you need.
Asking is about timing. If you've not talked to someone in ages, don't go in and ask for a referral right away. Establish a genuine and authentic connection before you have the conversation. Warm them up and then ask for referrals.
When you're working with clients, make asking for referrals part of your offboarding process. Don't wait! You want to ask your clients while your work is fresh in their mind. You're likely to get the best quality referrals at this point because you're just finishing out their project and they're feeling delighted with what you have delivered.
And our most favourite tip for the "how" of asking for referrals. If you've got client spaces to fill, NOW is the time to ask for referrals. Instead of deciding it's time to start a blog, or perfect your website, start reaching out to your network.
This is exactly how I managed to ensure I was booked up for seven years straight! The minute I knew I had an opening, I'd work my network and let my clients and collaborators know I had an opening for an amazing client. When you have a client spot to fill, it's time to hustle with your referrals.
Plus, I don't know about you….but asking for referrals is WAY better for than having to cold call anyone. (Does anyone actually like cold calling?!?!) By putting a referral system in place, it's just a matter of putting it in motion when you need to book clients.
Get Into Action
Are you ready to go get some referrals? Take action now by starting a list of who to ask for referrals. Open up a Google Doc or your notebook and come up with at least 10 names you can reach out to. You can do it!

If you want help getting referrals, you'll want to grab the Book Out Your Services Guide below as it includes our go-to script for asking for referrals. You can take and tweak this script to get going and get booked out.
[embed_popupally_pro popup_id="16″]