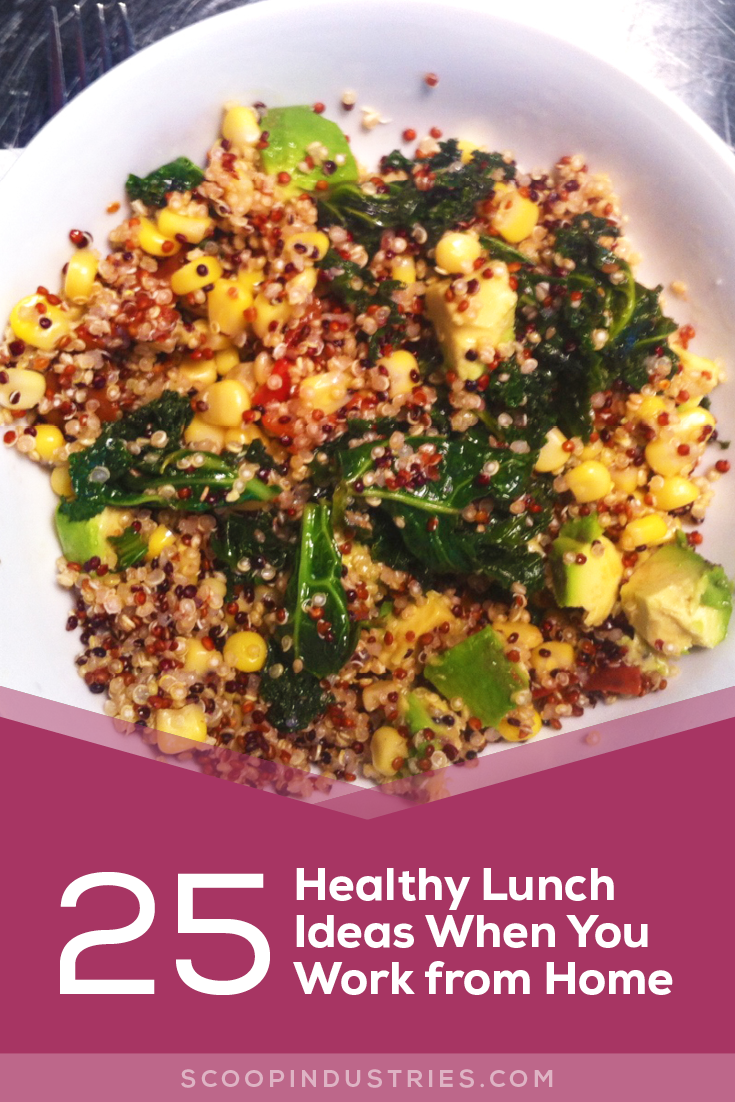 We all know that working from home comes with its own unique set of challenges. Of all the things we have to deal with in a day, you'd think that feeding ourselves would be easy, but for some reason actually putting together a decent meal for lunch is just one of those things that isn't nearly as simple as it should be.

We've all found ourselves standing in front of the fridge or pantry, staring inside and hoping that the perfect meal with magically appear. Sadly, it never does.
Lunch often ends up being some weird mishmash of whatever items we can scrounge up, or we live off of cheese and crackers because it's the quickest and easiest thing we can think to grab.
So, how do you break the boring lunch cycle? By planning ahead, of course! Time is usually the driving factor behind not eating properly, and we all know that time is at a premium in the world of the solopreneur.
Making things ahead of time and having a plan in place for the week is going to be your best bet for solving your lunch dilemmas.
Here are 25 lunch ideas to get you inspired with healthy eating ideas all year long:
Five Minute Fixes
Quick and easy to put together, with the added bonus of being vegetarian, these make for a super healthy and filling lunch.
#2 Egg & Veggie Bagel Sandwich
Who doesn't love a good bagel? Cook up an egg in your favorite way and throw on whatever veggies you have in the fridge.
A true classic, this ham & swiss wrap can be jazzed up with a spicy horseradish mayo for an extra kick.
Eggs don't only have to be for breakfast! Add in your favorite mexican toppings and this taco is a lunchtime fiesta.
High in omega 3s and protein with a full serving of veggies, this wrap will keep your energy high and get you through the busiest of afternoons.
Chock full of vitamin K rich spinach and delicious kalamata olives, this quesadilla is filled with flavour.
#7 Cinnamon and Honey Gluten-Free Waffles
The waffle that everyone loves with the benefits of being gluten-free. Top with honey, ricotta cheese and fresh fruit for a flavourful lunchtime treat.
Salads, Salads, Salads
All the deliciousness of a BLT but in the form of a salad. Add your favourite homemade dressing to amp up the flavour.
#9 Arugula Salad with Red Peppers, Artichoke Hearts, and Chèvre
Use some pre-bagged arugula to speed up your prep and substitute your favourite cheese if chèvre is not your thing.
It's texmex deliciousness in a bowl with plenty of shortcuts to have this made in a jiffy. Use store bought pico, canned black beans and frozen corn to have this ready in no time.
#11 Southwestern Vegetarian Cabbage Salad
Green cabbage is low in calories and easy on the wallet. With black beans included this makes a protein rich vegetarian lunch.
#12 Skinny Taco Salad in a Jar
What's not to love about salad in a jar? You can easily make this one ahead of time and there's also the added bonus of only one dish to clean after lunch.
#13 Pasta Salad with Pesto, Mozzarella & Tomatoes
Pasta salad is more traditionally known as a side dish, but with the right ingredients can make for a filling lunch. Because it stores well, you can make a whole batch and store in individual containers for easy on the go feasting.
Make Ahead Magic
Throw everything in the crockpot and let it do it's thing. Serve over rice or quinoa, or put it on your favourite bread for a delicious sandwich.
Nothing quite like chili on a cool winter day. Made as a large batch, this is easily frozen in single serve containers and it's chock full of protein and vitamins.
Don't like white beans? You can easily substitute your favourite bean or lentil in to this soup.
Made with soy chorizo, this jambalaya is full of all the creole flavours you expect. If you don't love okra, try asparagus as a substitute.
All the flavour of the mediterranean packed into one bowl.  Normally seasoned with cumin and turmeric, you can play with the flavours by switching those out for other spices.
#19 Gluten Free Mandarin Chicken Thighs
An easy, gluten free crock pot recipe that's a little bit sweet and little bit spicy. For an added burst of flavour, serve over riced cauliflower.
Easy Peasy
Who doesn't enjoy some noodle goodness? If you don't love spicy, you can easily sub out the hot chili oil for something more palatable.
Layer on the deliciousness with the great combo of protein, veggies, whole grains and healthy fats.
#22 BBQ Chicken Flatbread Pizza
You can never go wrong with pizza! If BBQ is not your thing, you can mix it up by using pesto instead.
#23 Cinnamon Apple Overnight Oats
Not only vegan AND gluten-free, this recipe makes for a fantastic grab and go lunch.
Grab your favourite bread, a tub of hummus and top with nutrient rich avocados.
A fantastic core recipe for tuna salad that can be fine tuned to your own tastes. Add in some pine nuts for extra crunch, or swap out the bell pepper for cucumber to make a lighter flavour.
And finally, a bonus recipe straight out of my kitchen. While my husband is chef and owns a restaurant, I often need to fend for myself in the kitchen and this is one of my favorite go-to:
Brittany's Rice Bowl
I'm a pretty simple eater when it comes to day-to-day stuff. Having a routine and a plan allow me to save my decision making power for the big ones!
That said, routine doesn't have to been blah or boring. What I typically do on a Sunday is prep up about two or three cooked cups of a grain like rice or quinoa. I'll put that in the fridge in its own container.
Then I'll usually cook up some beans and do the same. I always have some greens, avocados, cheese, hard boiled eggs, veggies, etc. in the fridge and I can mix and match up for the lunch. Here's my go-to combo:
Quinoa

Black Beans

Sweet Potato

Spinach

Avocado

Pepitas
It's also a great way to use up any leftover veggies from the week/weekend, too! If I have a longer lunch break, I will sometimes even fry up an egg to put on top 🙂
I'm a vegetarian, so there's obviously meat missing here, but you could easily add some chicken, steak or bacon.
If trying to pre-plan lunch every single day seems overwhelming, start slow and commit to two or three  days a week. Once you get yourself in a routine, planning ahead will become second nature. Happy eating!