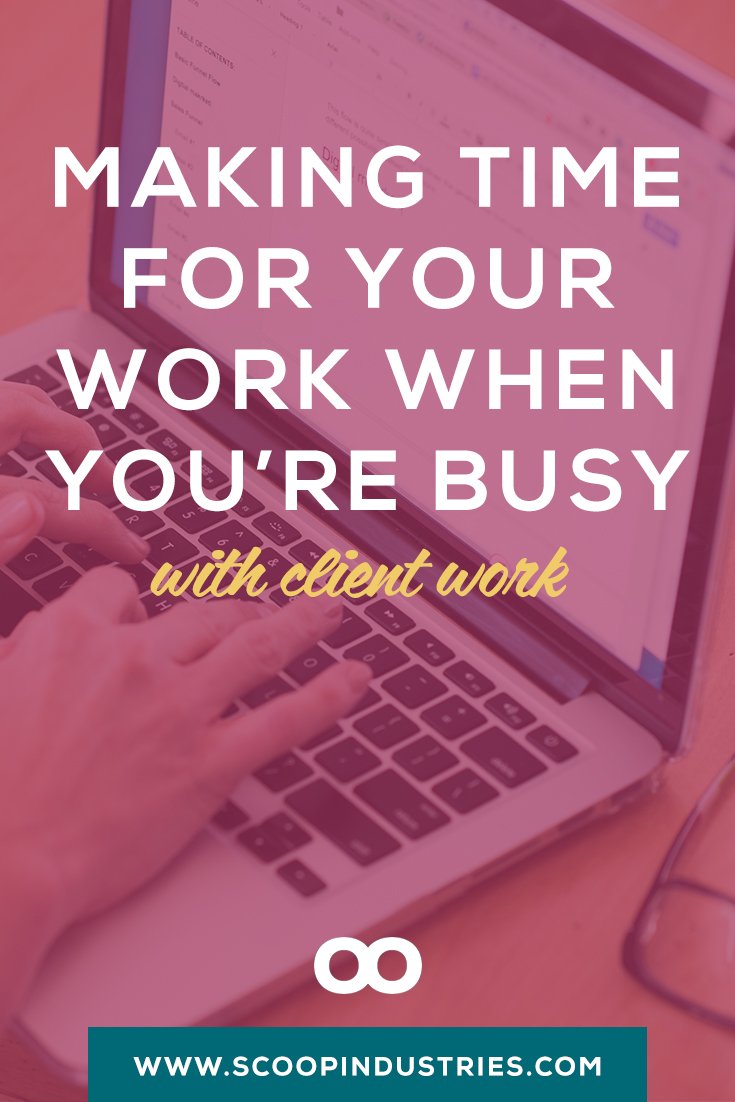 We've all been there. You get to Friday and while you've completely crushed your client work, your own internal to-do list sits untouched.  Sigh. How on earth can you actually think about making time for your own work, when you're busy with client work?

When I first started my business, I was so bogged down in client work that despite my best intentions, I found things like marketing and operations were always last on my list.  
Working with clients can be seriously time consuming, especially as  you're in hustle mode and building your business from zero. But working only "in" your business, and never "on" your business will eventually catch up with you.

For the first 18 months I was in business, I only worked IN my business. Which was great as I was busy with clients, but I came to realize that the only people who knew about me were my clients. Signing new clients typically depended on my existing clients being willing to share me. (And in many cases, they wanted to keep me a secret.)

Anything beyond the basics didn't get done. Things like asking for testimonials or referrals, spending time networking, or even thinking about my long-term strategy were always being put off for "later."

Are you with me? This is a common challenge when it comes to running a services-based business. And with good reason – you're following the money and doing client work to grow your business. But you don't want to do this to the detriment of your future growth. A certain baseline of vision, strategy and working ON your business needs to happen.

Here's how I managed to turn things around and start spending time every week working on the business instead of just in it.

1. Create Your Ideal Week
If you don't manage your time, your time will manage you. Your client work will literally fill in every available time slot on your calendar. Which is why it's up to you to create your ideal week and not just let your inbox and tasks run the show.

Start by getting clear on what your work hours are and what life or personal commitments you have each week. Those should go into your calendar first.

After that, you need to put in a block of time for you to work ON  your business. Ideally, you can add multiple blocks during the week.

Before you object and think "Noooooo, I can't do that!", I encourage you to give it a try. It's going to feel hard at first, but you need to remember that you are the boss, and that your clients don't need to have 24/7 access to you. So if you take Monday afternoons for your business priorities, it's factual.

As you're looking at time blocks for working on the business, think about what specific things need to be done weekly, monthly or quarterly and add those into your calendar.

Only after you have those time blocks in place, is when you should slot in your client work.
2. Lay Out the Exact Tasks for Your Time Block
Having a few hours in your week, or even a full day, to work on your business is going to feel a bit like a luxury when you first start. What you absolutely need to do is spend time – before that time block – getting clear on what needs to happen.
The last thing you should do is sit down for your time block and think, "okay, what is it I'm doing again?". Because in that case, you're going to end up distracted and unfocused.

I started off by creating an "internal" project in our project management system, Basecamp. In that project I created tasks for myself to know what I needed to do and when.

This approach also helped me not get sidetracked when working on client work. If I had an idea or thought of something I could do for the business, it went into the project in Basecamp.

Then when I sat down for my internal time block, I knew exactly what to be doing and I was able to take that time to be super productive.
3. Set Strong Boundaries for Clients and With Yourself
To work with clients and not lose your marbles, you need to have strong boundaries. (We talk about boundaries in depth in this episode of the Inside Scoop Show.)

Yes, you're in the business of client service, but that doesn't mean you need to respond to every email within minutes or consistently sacrifice the time designated to work on your business.

Make the time to work on your business sacred. Don't schedule client calls or spend your time surfing Facebook. (My secret weapons for staying focused are Focus@Will and the SelfControl App.)

You don't have to tell clients you're unavailable or make a big deal about it, just keep it factual that for that time you're already booked.