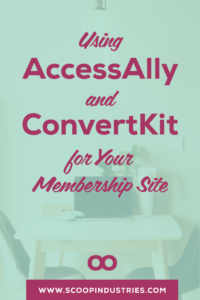 As one of the first few people to start using AccessAlly in its beta phase with clients back in 2014, I simply love  this product. I've been using it ever since with clients, and for our own membership site and more.
AccessAlly started out only available or Infusionsoft users (and so as an Infusionsoft Certified Partner, it was right up my alley). At the time  I was stoked to finally have a platform that played so nicely with Infusionsoft and WordPress membership sites.
AccessAlly has expanded and grown so much since then, but this latest update has got me all kinds of giddy. While they've expanded AccessAlly features, they now integrate with more than just Infusionsoft.
AccessAlly now integrates with ConvertKit (now Seva) 
Wait, I thought you said you used Infusionsoft primarily – why would you care if it integrated with Seva? Back in 2014, Infusionsoft was the primary email marketing platform we worked with, but over the years that's expanded and we became Seva Certified Experts.
Note: ConvertKit is now named Seva. 
Truth be told, I'm more about having the right strategy and systems in place vs. having the fanciest/latest/greatest/most expensive tool.
For most small business owners, especially services businesses, Infusionsoft, Ontraport and the like are often too much. Having too many bells and whistles can be just as problematic as not enough bells and whistles.
In 2015, I discovered – and quickly came to love – ConvertKit (now Seva). I was also tapped to be one of their very first Certified Experts. (What can I say, I nerd out on email technology )
Seva entered the email marketing platform space with a unique understanding of the fact that for most online businesses, they needed more functionality than offered by MailChimp, but they didn't need the cost or complexity of Infusionsoft or Ontraport.
That's why Seva is a clear winner here. It offers a great price, top notch functionality and a solid company that's constantly growing and making their product better. 
AccessAlly and Seva for Your Membership Site
AccessAlly is a WordPress plugin that enables s you to create a membership site.

What's super powerful about AccessAlly is its ability to protect pages and posts on your membership site based on what tags a user does or does not have in Seva. Plus, with the addition of ProgressAlly you can create quizzes, checklists, badges and more to enhance your member's experience.
Currently, integrating a WordPress membership site with ConvertKit is a little challenging. You can do it with Wishlist Member, but it's clunky and leaves something to be desired in the customer experience department. You can't store your password in Seva or do an automatic user registration. And you're limited by the functionality of Wishlist Member, which doesn't have nearly the power of AccessAlly. 
Seva and AccessAlly is a dream with seamless integration between your membership site and your email platform. Here are the top three reasons why this tech nerd is LOVING this match made in digital heaven:
Store Passwords in Seva
You can store your AccessAlly membership site password in Seva. This means you can share your password seamlessly, from Seva, with your new subscriber or customer.

This may not seem like a huge deal, but let me tell you that when you can automatically set up a user in your WordPress membership site AND send that info directly to them, it's pretty powerful.
Since the password is stored in Seva in a custom field, it's super easy for you to send the password every time you send your subscribers an email if you want to. Just like the merge field that allows you to input your client's First Name, you can also insert the Username and Password for your users into emails.
Integrated Payment Options
AccessAlly has integrated payment options. This means less automations to deal with inside Seva for you! Instead of connecting your payment processor and AccessAlly and Seva, you can cut out your payment processor and just integrate the two.

Less moving pieces = simpler set-up, troubleshooting and maintenance. AccessAlly currently has integration with Paypal and Stripe. You can set up order forms, products and offers with special deals also (which make your Paypal and Stripe SO much more compelling to use).
A Custom Membership Site
You can create a completely custom membership site hosted on your own domain or subdomain. Sometimes, using something like Teachable or Thinkific is a great solution if you need to get up and running quickly.

On the flip side, you need something that gives you more control over so you can  customize it and do exactly what you want with it. If you find yourself in that boat, AccessAlly is THE plugin you need to create your WordPress membership site.

If  you're a DIYer AccessAlly has amazing tutorials that walk you through how to set-up your site and integrate it with Seva. And, if you're NOT the DIY sort, we'd love to help you. But the point is, if you're even a little technically inclined, you CAN do this without having to hire a developer to custom code everything to get you what you want.

Now, I wouldn't be doing you a service if I didn't point out one potential downside to AccessAlly, which is the cost. This is a premium plugin – meaning you pay a monthly fee for it. It's currently about $79/month, which I get, it IS high as far as plugins go, but if you're selling a program at $97, one program sold per month more than pays for the cost.
If you're curious and want to give it a whirl before committing, you can take advantage of a special offer from Scoop that makes your first month of AccessAlly only $7. Click here to get all the details.
*This post contains affiliate links and if you subscribe to these services we will receive a commission. We are proud partners of AccessAlly and Seva and recommend them based on the quality of the solutions.