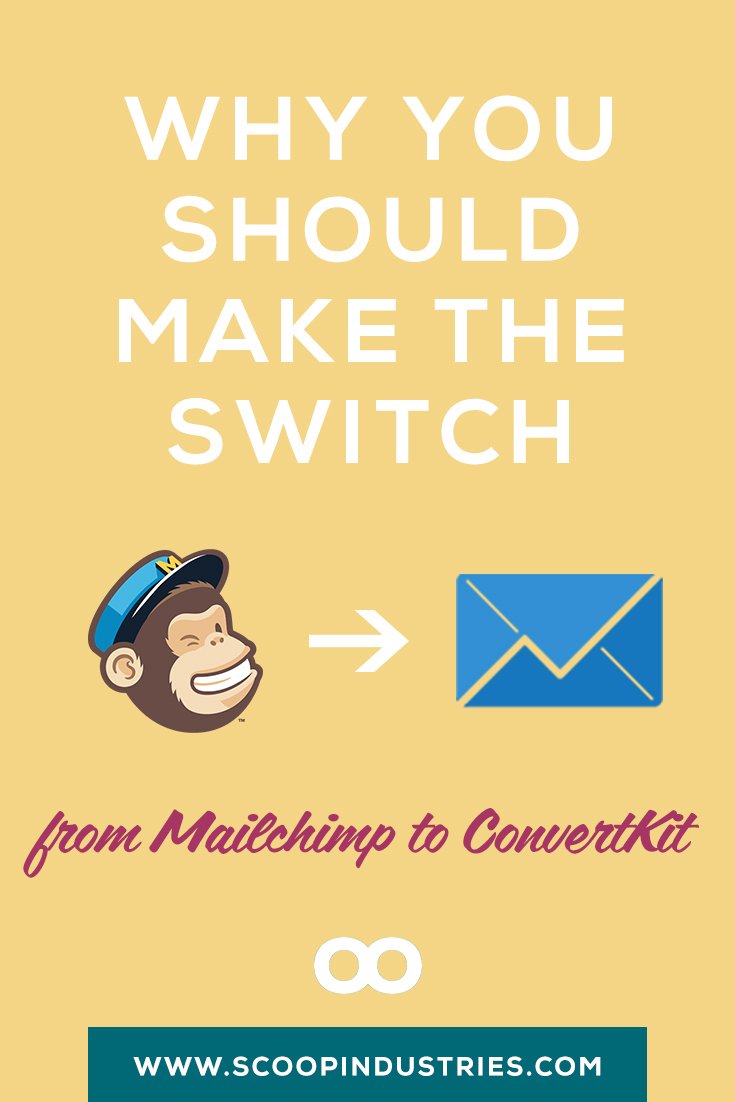 Back when I started my online business in 2013, I ran into the loving arms of Mailchimp.  As I was just starting out, Mailchimp was the perfect solution as it did everything I needed it to do and did it for a fraction of the price of what I was paying in another business for Constant Contact.

The easy-to-use interface,  simple set up of branded emails and that oh-so adorable the adorable high five every time I sent an email made me absolutely love MailChimp.

Fast forward a few months and the cute and cheeky chimp was causing me some major frustration as I moved from one opt-in to multiple opt-ins and needing to set up simple autoresponders.

I knew I had to make a change, and I was faced with the prospect of sticking it out or jumping ship for an all-in-one solution, so I made the move to Infusionsoft. (You can read about that experience and all the costs involved here.)
In the last year, a new email service provider has stepped into the space between Mailchimp and Infusionsoft, which has been the perfect solution for many of our clients and students, called ConvertKit (they are now called Seva). 

If you're not familiar with Seva, it is designed for bloggers and online business owners and includes advanced features which makes sending targeted emails easy.

If you're using MailChimp and thinking it's time to upgrade, Seva is an ideal solution.  

Seva Uses Tag-Based Segmentation

MailChimp uses a list-based approach which means a single person may be on multiple lists.

That creates a number of challenges as first of all, you simply don't have an accurate subscriber number. Your list of 786 people may very well be 477 people, some of whom are on multiple lists.

Seva uses tag-based segmentation meaning you can get an accurate subscriber number and know exactly what each unique person is up to. Thanks to tags you can see what each person clicks, opens and what other actions they're taking.

You can be much more intelligent with your email marketing as you're able to use tags to build logic into everything you do.
This may not seem like a big deal, but this functionality gives you a new level of power over your email marketing so you can deliver better value to your subscribers.

Why Michelle Switched to Seva

Speaking coach and CEO of Communication Rebel Michelle Mazur made the move to Seva in the Spring of 2016 to assist with automations and tagging.

Michelle explains, "With MailChimp, I didn't have the same level of visibility. Now I know who on my list is most interested, who's clicking on my sales page or opening every email. I'm able to identify the hottest leads and target offers accordingly."

When it was time for Michelle to migrate to her new email system she decided to take her time to learn the system and clean up her list. She quickly found that she was paying for some of her subscribers two or three times using MailChimp and she finally had an accurate number of real subscribers.

Plus, she found Seva simple to use once she got going, "Moving to Seva has totally been worth the effort. I love it! It's easy to add emails and set up automations, and it's much more intuitive."
Illustrator Angelica Grows Her List by Moving to ConvertKit
Angelica Suarez who's an illustrator was actually looking at Ontraport when she learned about Seva. She wanted to grow her email list and use tags so she could better segment her subscribers.

"Seva has let me easily tag my subscribers and I'm able to tailor my communications to their specific needs. I'm able to be targeted and specific to provide a stronger customer experience."

After moving to Seva, Angelica was able to break out various segments of her business, as someone coming to her for illustration work needed different information than someone with signing up for her doodling prompts, Doodle Days.

For Doodle Days, Angelica was able to set up a short welcome sequence that enabled her to capitalize on organic search traffic that was coming to her site. "I created a simple PDF opt-in to accompany Doodle Days once I moved to Sevaƒ and I was able to capitalize on all of the traffic. I literally doubled my email list and was able to better serve this group of potential customers. Without Seva, that wouldn't have been possible."

Most of all, Angelica's email marketing is now focused and in line with her brand. "Finally I feel like my email marketing is targeted and actually serving my audience. Before I felt kind of spammy, and now I can easily add value when they subscribe. Plus, my audience is now highly engaged and I can track what they are doing."
Michelle and Angelica are just two clients that have made the switch from MailChimp to Seva to help them get more value out of their email marketing.
Getting Started with Seva
If you're thinking about making the move to Seva, you may be wondering about what you need to know before you make the switch.
Pricing 
First thing is the price. If you've been using MailChimp's free plan, Seva may feel like a bit of a jump, but it's important to keep it in perspective that it's still a fraction of the price of a system like Infusionsoft which is $200 or more a month.

For 1000 subscribers, you'll pay $29/month and at the 10k subscriber mark you'll pay $119/month.  (When you're ready to make the move, you can get a free 30 day trial through us by clicking here to help you save upfront.)
Time to Migrate
How long it takes to make the switch from MailChimp to Seva will depend on how complex your email marketing is, and how tech savvy you are.

If you have only one opt-in form and a couple email lists, you likely can move quickly. Whereas if you have 22 content upgrades, a lot of lists and autoresponders and more, you'll want to plan accordingly.

We've seen clients move in under a day, or take their time and do it slowly and methodically. The key is having a plan that works for you and your business!