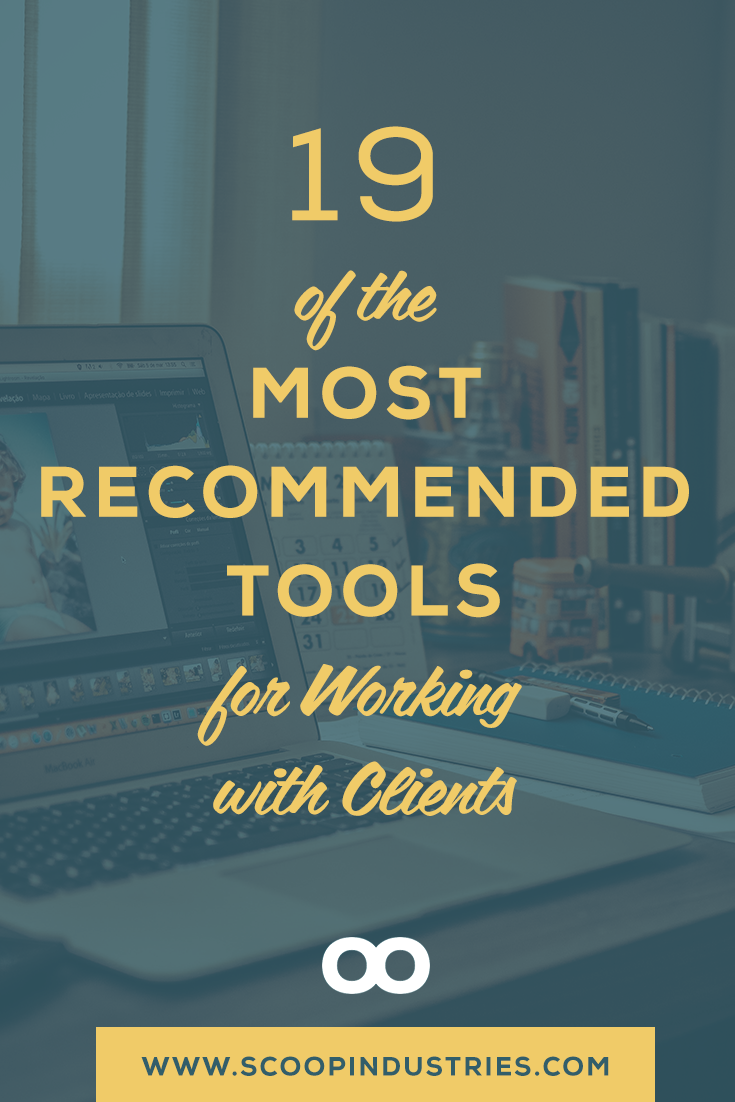 Running a services-based business is a smart move.

Sometimes it may not seem like it when you're working online and people make big promises. But the truth is, it's the fastest path to cash and the BEST way for you to build your credibility and experience. (So, go you!)
Just because it's smart to run a services-based business, doesn't mean it's always easy.
When you're running your services-based business, even if you're not charging your clients hourly, your time is still your biggest money maker. And time spent on client work is money in the bank… and so it makes spending time on your own business the last thing on your list.

So you keep putting working "on" your business on the back burner. Not good if you want to grow and thrive!
This post is designed to help you capitalize on your precious time by sharing with you our MUST HAVE tools for running a smart, successful, and streamlined services-based business.
One of the biggest traps we see services based business owners fall into is wasting time trying to figure out which tool is the best tool to use for X or if technology Z is better than Y.
While having the right tools in your toolbox is immensely helpful, the reality is there is no benefit to trying out every new tool as soon as it hits the market only to give up on it two weeks later (can you relate?!?).
When you find something that works, stick with it.
Many of these tools are not all that different from the others in terms of functionality, rather they are designed to be used in a slightly different way. You'll also get to learn what fits with how your brain works, and what doesn't.

A perfect example is project management systems. If you're more linear, you'll likely gravitate to Basecamp. But if you're really spatial and visual, you'll likely reach for something like Trello. At the end of the day, though, they do pretty much the same thing.

The point? Not everything is one-size-fits-all, so what we recommend on the following pages are our favorites, or systems we've used with clients.
If you are currently using something that we don't list below, don't sweat it. Especially if it's working. Repeat after us – if it's working for you and not causing any issues, don't change it.
On the flip side, if you're using something now that isn't living up to your expectations or you think there's some efficiencies to be had, give a few of these options a whirl.
Here are our fave tools and apps to help you manage your clients:
Project Management
Having some type of project management system is a must. And we're not talking about a system of sticky notes all over your desk. Having a system in place will help you manage deadlines, tasks and so much more.
Basecamp (Basecamp 2) is what we use here at Scoop. While I'd argue that we're not always super linear thinkers, where Basecamp really wins for us is its ability to seamlessly manage multiple client projects alongside internal ones. You can set up templates to be used over and over again and you can invite people to a project.
There is also a feature in client projects where you can make internal to-do lists. This can be super helpful when you have items that need to directed to your internal team (or self) but the client doesn't necessarily need to see them.
We've used Asana before and it's a decent option. It's free and when managed correctly can be a great project management system. Plus, it has some fun magical unicorns that fly by when you complete a task.
We actually use Trello a bit as well. We're suckers for sticky note planning and Trello is about as close to that as you can get when it comes to online planning. We typically use Trello for more long term project planning and plotting, but it can also work quite well for day-to-day project management. It's much more visual and spatial than either Basecamp or Asana.
We hesitated to put this under project management because it's really not a project management tool. BUT it's a great complement to a project management system when used for communication with your team.
It cuts down on email and communications inside of your Project Management tool. When you pair it with one of the above via Zapier, you can even make tasks right from a Slack convo if needed.
File Management
No more chasing things around and figuring out where exactly you put them. A file management system will save you time and energy in a big way. It takes some setup, but it's so so worth it!
Amazon S3 is a file hosting service that allows you to upload just about any type of file and host it there. You can control who can access it and how with a simple link. Admittedly, it's not the most gorgeously designed thing out there, but it's been around for ages and just WORKS. Perhaps, that's why we use it all the time.
Dropbox is great and it's honestly the "pretty" version of Amazon S3. It's easier to use and a bit more intuitive.  
This is our go-to for internal documents and everyday type of documents. It's also great for client shared documents. No more multiple versions floating around out there. The commenting feature is also a great way to have conversation and post questions right on the document itself.
Scheduling
There's nothing more annoying than going back and forth on email trying to find a date or time for a call. Schedule calls and meetings easily with a scheduling tool.
This is our go-to scheduler as it integrates quickly and easily with Google Calendar and we can customize multiple URLs to have call links for different purposes.

Is a great option if you need simple scheduling, and best of all it's free. We love the interface for this tool too – so easy-to-use.
Meetings
Meetings and calls are all part of working with clients. But you want something easy to use that's reliable too. Here's our favorites.
Virtual meeting & webinar platform. You can do live team meetings, group calls, and webinars with video, screen sharing and more. Our current meeting and webinar platform of choice.
A super simple (and free) meeting platform. You can screenshare, but no video as of yet.

This is a quick and easy option if you have reliable internet. Add Ecamm Call Recorder to make recording video or audio calls a cinch.  
Client & Contact Management
When you run a services-based business, you need a way to keep track of your leads, prospects, who you need to follow-up with and much more.
If you have trouble remembering to follow-up with your prospects and new leads, Contactually is a must. You can create all kinds of different pipelines and buckets to make sure you never miss following up with someone again. Seamlessly syncs to your email and incorporates gaming aspects into your dashboard to keep it fun.
A much more robust sales pipeline option is available inside Infusionsoft. Best used for larger sales teams with multiple points of entry. One part of their "all in one" system for small businesses.
Proposals
Want to save time when creating your proposals? We've got you covered.
We wish we could cue angels singing in the sky for you here. If you create proposals for your business and you do NOT have BidSketch, please run immediately and get your hands on this.
This tool has probably been the single biggest time saver in our businesses in the last year. Not even kidding, we almost look forward to creating proposals now! The beauty of BidSketch is it allows for multiple templates, saved sections, and a beautiful and professional delivery to your prospective client. Get. This. Now.
Money, Invoices & Payments
Who doesn't want to get paid? But sometimes this can feel like the hardest part of running a business. From getting your money to issuing invoices, here are our favorites.
A great way to invoice clients and give them the ability to pay with their own Paypal balance or use a card synced to their Paypal account. (Powertip: Save on fees with PayPal Business Payments set up so you can pay only .50 per invoice. You'll need Freshbooks or Harvest for this option.)
A low-fee way to accept credit cards directly on your site or through another platform. It does require coding knowledge if you plan on using it on its own.
Time tracking and invoicing all in one. If you use Freshbooks, make sure you have Paypal Business payments hooked up so you can pay as little as $0.50 per invoice (that's a HUGE savings for multi-thousands invoices!).
Geared initially for a personal budgeting software and system, it also works well for planning your services-based business budget. Especially if you're a solopreneur or have a small team.
Infusionsoft allows for merchant payments, Paypal, and their own merchant, Infusionsoft Payments when running orders through Infusionsoft. One part of their "all in one" small business system.
The Recap: Pick The Tools that Work Best for You
So there you have it. Our favorite tools for running a services-based business. If you're looking for a better solution in any of these areas, take one (or a few!) out for a test run. If what you've got is working, stick with it.
In any case, use this guide to help you narrow in on the tools you need for your services business that also fit well with how your brain works. Stop wasting your precious time wondering what tool works and instead get to work on the stuff that really matters – serving your clients and working on your own business growth.
*This post includes several partner links and we do receive a commission if you purchase them. That said, we would recommend these whether or not money was changing hands.