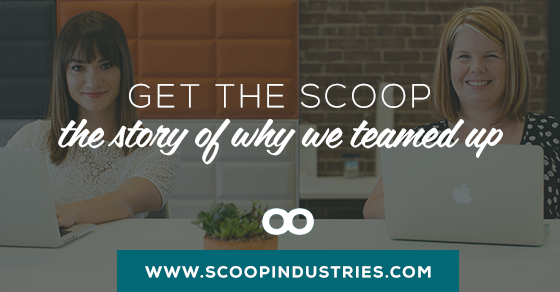 It's a big day here at Scoop, and maybe not for the reasons you're thinking. Yes, it's our first blog post and the launch of our shiny new website, but for us, Scoop has been brewing behind-the-scenes since last February.
We've been gestating Scoop for longer than it takes to have a baby. And it's a good thing, because while we're super excited it's finally here, starting a new business and combining two existing ones has been some serious work.
Today we wanted to share the scoop on how Scoop came to be, and why we've chosen to do something that so, so many people have questioned us about – raising eyebrows and telling us we were straight up wrong. Yes, I'm talking about partnering.
Partnerships are tricky business. Too many times people get carried away and decide in a wave of inspiration that they'll team up, because two heads are better than one, right?
Not necessarily. Over the past year, we've both heard more partnership-gone-wrong stories than you could imagine. I've been grilled by one of my BFFs (who's a former partner on another project that ended amicably) about all the details while floating down a river in an inner tube on a warm summer's day with a margarita in hand.
So, why'd we do it?
For me, it was time for a change after more than 10 years of working solo or with a small team. I'd pretty much hit the solopreneur revenue cap where I had to make a choice about what I really wanted. And what I wanted was a new challenge and a business that could scale.
For Brittany, it was pretty much the same situation, and it's thanks to her vision of what this could be that we're preparing for a pretty rocking 2016. (Seriously, ask her about my issues with constantly bursting into laughter about big plans.)
But before you partner, here are a few of the main lessons we've learned from this past year:
Lesson #1: Partnering is Harder Than Getting Married
Our big first lesson of building Scoop. Partnering isn't easy. Especially when you've got two successful businesses and there's a good pile of cash and brand equity at stake. And then throw a border between countries in, and you've got the recipe for a monthly conversation where you're giving each other an out because it's too damn hard.
It would be easier for us to get married.
While neither of us is a fan of making things more complicated than they need to be, sometimes you just need to do the work, which is a decision we made at least weekly for the past year.
This has definitely been a good test of our partnership from the get-go, as there are going to be things that aren't so fun, but at least now we know for sure that we're both willing to do the work.
Lesson #2: Good Things Take Time
Confession: I'm an ideas person. As in I have them by the minute, and I have to stop myself from immediately putting them into action. Last year was the ultimate lesson in patience and working a plan to make something amazing happen.
Yeah, patience is NOT my strong suit. And secrets? Ha! I don't think that neither Brittany nor I found it easy not to just tell everyone. Especially when we were SO excited about what we were planning.
We've had a name for Scoop since March after working with Victoria Prozan, but we kept it under wraps for months, with only about 10 people (including our husbands) who knew what we were doing.
So, what were we doing all that time?
Plotting and planning everything needed for a new brand from a photoshoot, to talking to accountants, to figuring out our team, offerings and all the systems to make it go.
All while taking care of our existing businesses, which meant that doing it quickly wasn't a luxury we had. With so much at stake, rushing through everything or telling people before we had everything figured out would have been downright disastrous.
Lesson #3: Virtual Partnerships Are Special
Working virtually is nothing new for either of us, but let me tell you, making a million decisions and figuring each other out along the way (even after over a year of already working together nearly daily), was tricky.
A virtual partnership is like a long distance relationship, it requires a special level of TLC as you don't always see the sarcastic eyeroll, or know exactly what is going on with someone.
I'm confident we made it this far and are actually launching because we scheduled in-person meetings throughout the year to focus 100% on Scoop. That said, we've really only had two in-person meetings – one in March and then one in July.
We live over 900 miles apart, which is a solid 14 hour drive across one province and five states. So lunch is kinda out of the question most of the time.
In July we drank about 37 gallons of unsweetened iced tea, drove six hours in a single day to get photos done, spent more hours in a Panera Bread in Kentucky than I ever thought humanly possible while we plotted everything from revenue projections to brand values. Many post-it notes have been sacrificed in the process.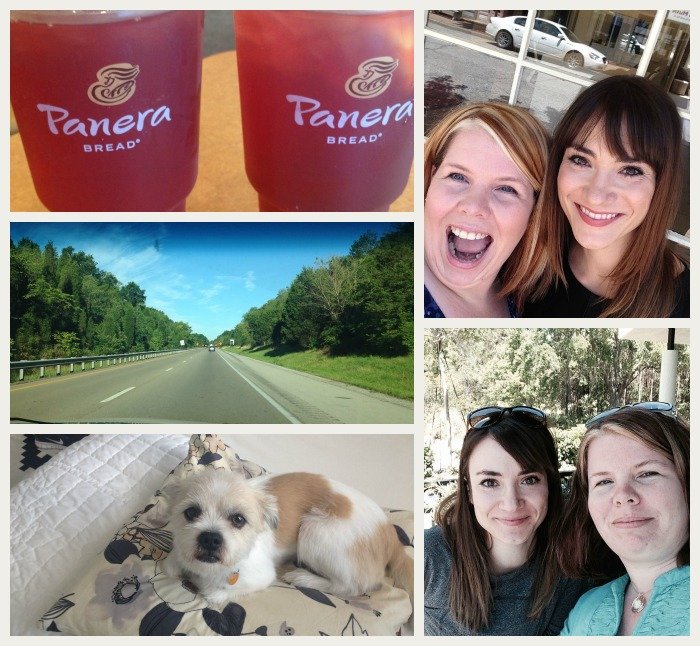 Since then, we've not seen each other for nearly six months because of a few curve balls, but we spent a least a week together on Skype working on everything imaginable as an alternative. It's not ideal, but we've made it work.
We've now instituted quarterly in-person meetings for 2016, and have a planning retreat for early December in the works. Because even with all the tools and hangouts and Skype where we can talk daily, there's no substitute for Sharpies and Post-Its and fresh new notebooks with lots of iced tea.
Partnering isn't for everyone. In fact, I'd argue it's only for a select few who are a good match. Start small and give it time before you go all in.