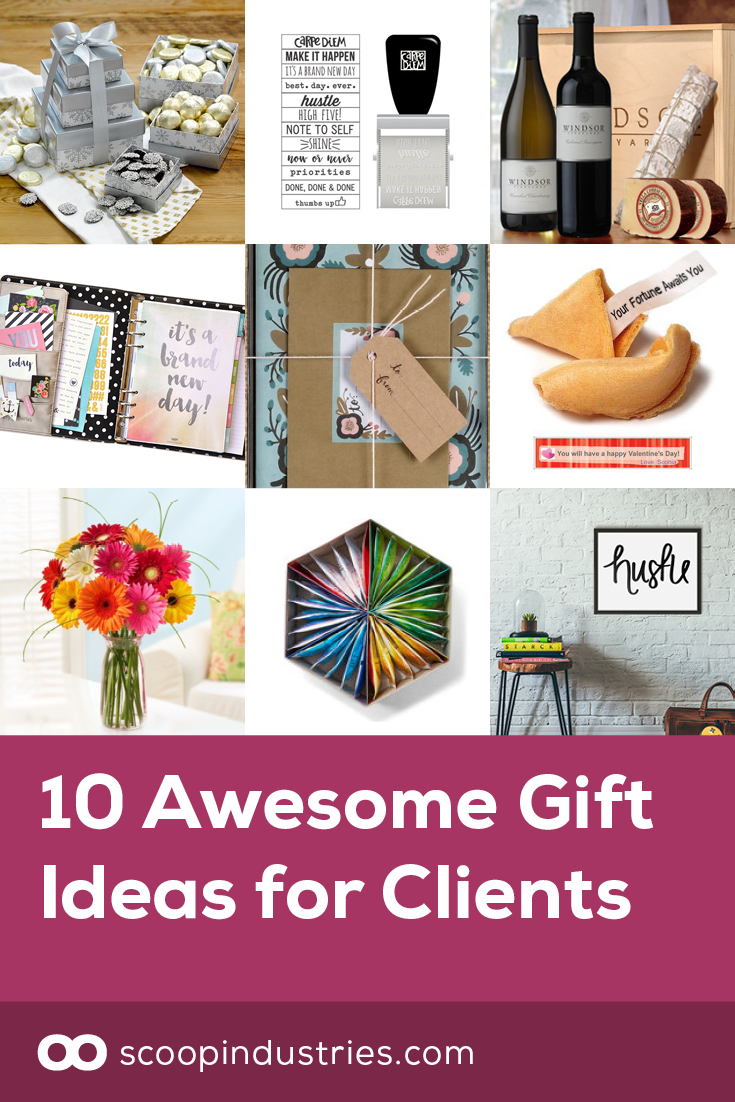 When you work with clients, the holidays are the perfect time to say thanks. After all, when you run a services business, clients are the lifeblood of your business and it's a classy move to show your gratitude.
But let's face it, the days of everyone giving out impersonal, mass produced client gifts are over. No one needs another stress ball or crappy logo pen. While it IS the thought that counts, taking the time to handpick thoughtful gifts – at any price point – will help you surprise and delight your clients.

Whether you are looking for gifts that are useful, funny, luxurious or just something to bring a smile to their faces, here are our 10 best suggestions for client gifts this year:

Prints or Artwork for Their Office

Whether it's a piece that they will find inspirational, or just something beautiful with a pop of colour that will brighten up their office, artwork is a great way to say thanks.

It's something that will last forever and remind your client of you whenever they see it.  We love our friend Lindsay Goldner's Pop Sparkle Fizz prints if you need a place to get started.
A Writing Set

We all know people who love love love stationery and probably have their own stockpile of fancy paper and pretty pens. If you're looking for a simple and inexpensive gift, then a stationery set may be just the right thing.

I've definitely found over the years that many entrepreneurs are not-so secret office supply junkies. So a stationary set like this one from Rifle Paper is an stylish gift.
A Tower of Chocolate

Who doesn't love chocolate? It's always a good idea! Around the holidays especially, it's great to have sweet treats on hand. Even better if it's a literal tower of chocolate like this one from Lake Champlain Chocolates based in Vermont. (Fun fact: I've visited their factory and this chocolate is to die for!)

Whether you want to make sure your client can satisfy a mid-afternoon sugar craving or that they have something to share with the rest of the office, an assortment of chocolate is the perfect gift for your client with a sweet tooth!
A Luxe Day Planner

How better to say thank you to a busy client that to help them stay organized? While the world is more digital than ever, there's something to be said about an old school planner to keep track of the day-to-day hustle and bustle.

I'm crushing on the Carpe Diem A5 planner and the Day Designer's A5 Planner is pretty sweet too!
Add in some additional pieces like a roller stamp or coordinating accessories like stickers or pens and your client will be ready to hit the ground running in the new year.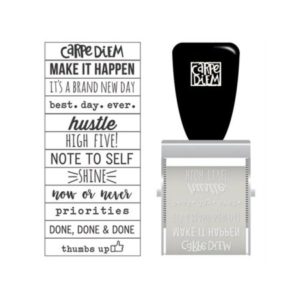 Personalized Wine Glasses
Whether it's a favourite saying, a funny inside joke or even their company slogan, personalized wine glasses are a great gift for the wine loving client. (And they don't even have to drink wine – anything goes!)

With these personalized wine glasses from Things Remembered you can mix and match sizes and styles depending on preference,  and the messages can be whatever you think your client would like. (Plus this stemless one reduces the chances of spillage!)
Gourmet Wine Box

You likely have a client who is a foodie and would love to get a nice bottle of wine and some savoury snacks. A gourmet wine box is the perfect gift to be enjoyed at home where your client can put their feet up and unwind after a busy day. Check out this gourmet wine box from Windsor Vineyards to get started.
Personalized Bouquets

The client who loves to garden (or just pretty things in general!) will love a farm-to-table bouquet made especially for them.

Do a little research to find out their favourite flowers (or use their brand colors!) and personalize a bouquet that will brighten up their office on a cold December day. The Bouqs is one of my fave places to order flowers from and these bouquets always wow!
Personalized Office Box
We all know clients who collect office supplies. (I'm not admitting anything right now, lol!)

Why not mix and match some stationary, clips, funny sticky notes and magnets to create a personalized office box? You can also add in some great stationery and envelopes they can use to send notes to their clients. We love Kate Spade and Poppin for cute and functional office supplies.
Tea Sampler

Tea is the new coffee! With an enormous selection to choose from, there's tea for everyone to love. You know your client, so why not give them their very favourite hot drink and perhaps even throw in some flavours they might not have ever tried?
You can also include your personal favourite, or a fun mug they can use to enjoy all the amazing tea samples you've given them. Check this pre-made gift set from Teavana for all your tea drinkers.
Personalized Fortune Cookies
Imagine your client's surprise when they crack open a fortune cookie and find a personalized message from you! This is a great gift for sharing, whether it's with their colleagues at the office or a fun treat they can hand out to their own clients.  KC Fortune Cookie Factory will let you personalize up to 15 messages, so click here to get started with your messages now.

Now that you've got a little inspiration, make a list of all the clients you'd like to say thanks to this holiday season. Or any time of year really – gifts aren't just for the holidays and imagine their surprise when they get a gift just because!
[embed_popupally_pro popup_id="9″]