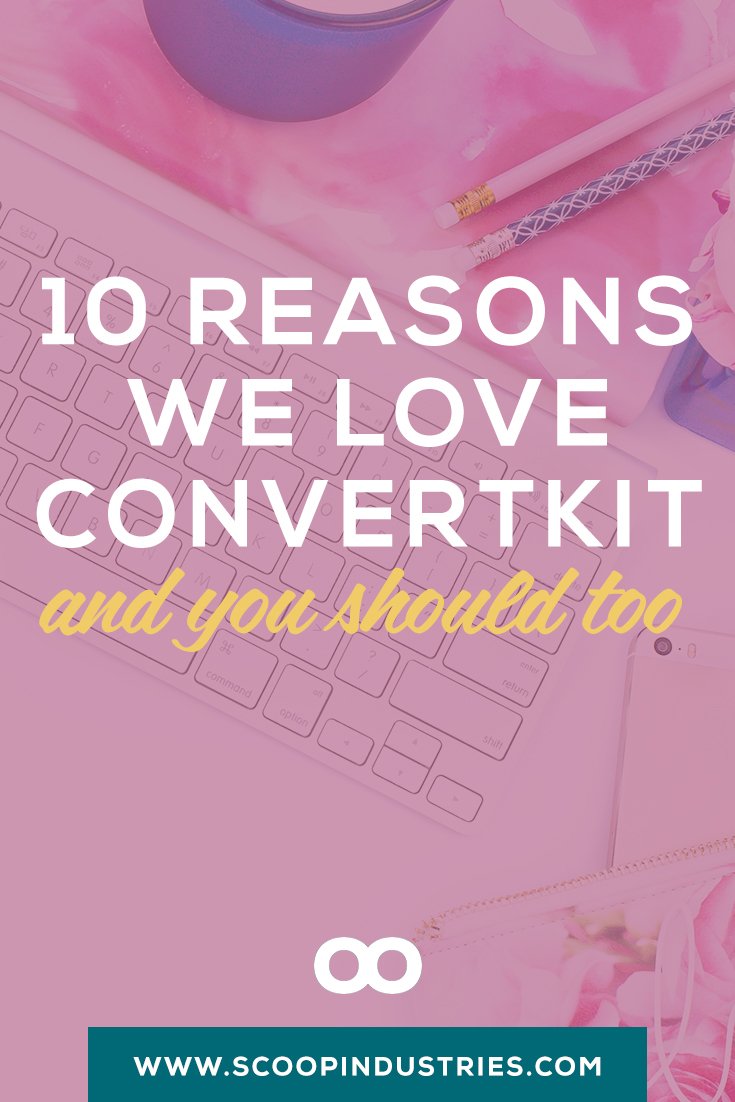 Email marketing isn't overly sexy at first glance. There's not a hot new platform every month and well, there's really only one way to send an email…. to an email inbox.
But even though the world of email marketing doesn't move as fast as some of its other digital marketing counterparts (ahem, looking at you social media), it is constantly evolving.
Which is why when a new tool is released, it's like Christmas in July for this email nerd.
A couple years ago (hey, still news in the email world!) a new email platform intended for bloggers debuted.
Its name? ConvertKit.
Its promise? Simplicity and efficiency.
Now thousands of people are using it, including big-name bloggers like Pat Flynn, Leo Babauta, and Wellness Mama. Plus many online-based entrepreneurs are making the move to ConvertKit too, and it's not just because of ConvertKit's pricing.
If your current email marketing provider is working out just fine for you, no need to change. I'm a huge believer in simplicity and using what works for you.
But if your email marketing is feeling a little meh and you're not over the moon with your provider, ConvertKit just might be your ticket.
Here are 10 reasons we love ConvertKit and you should too:
#1. Tagging
If you're currently on a list-based email system (Mailchimp, Constant Contact, Aweber, etc.), this is hands-down the #1 reason to love ConvertKit. When you have a tag-based segmentation platform, you can get way more granular by tagging people based on what freebie they opted in for, what webinar they signed up for, what product they purchased, etc.
You can do this all without double counting across multiple lists. This ultimately enables you to get smarter with targeting different sections of your list based on their interests and behaviors.
When it comes to tagging using ConvertKit…the sky is the limit! You can learn more about tag-based segmentation and totally nerd out in this blog post.
#2. Marketing Automation that you understand
I do lots of marketing automation for Scoop's marketing but I do even more for our clients. I literally built my reputation and business on funnels, email marketing, and marketing automation.
And in the past, this typically has meant using something like Infusionsoft or Ontraport. And those come with a seriously steep learning curve along with a high monthly cost.
What I love about ConvertKit is that now for the first time you can do some really smart marketing automation without a steep learning curve or hefty price tag.
What's cool about this is that with ConvertKit you'll be able to learn how things work and not always be relying on someone else to do the work for you. You'll have greater understanding of what's happening and be able to make better decisions based on your situation when it comes to your email marketing.
#3. Convertkit Price
Let's be real. Price and budgets are real things in our businesses and we've gotta keep an eye on the bottom line. (Otherwise, next thing you know you're not getting paid and no one is happy!)
So if you've thought about jumping up to a more sophisticated email platform but the multiple-hundreds-per-month price tag has sent you running, you'll love ConvertKit's price.
ConvertKit is an absolute freaking STEAL. Starting at $29/month for 1000 subscribers, it's seriously the best bang for your email marketing buck out there. (And if you've got a bigger list, you're still only at $79/month for 5000 subscribers.)
Not sure? As one of only a few ConvertKit Certified Experts, we can offer you a free ConvertKit free trial to give it a whirl. (I'm pretty sure you'll love it and you'll have 30 days to figure it out!)
#4. Clean & Intuitive User Interface
It's so much more relaxing and fun to hang out in a clean house or a tidied up room, right? I feel exactly the same way about my technology!
ConvertKit has stripped out the unnecessary bells and whistles some other platforms have and has an amazingly clean, modern and intuitive interface.
The absence of the digital clutter and fluff makes my heart skip a beat. I mean, isn't just beautiful?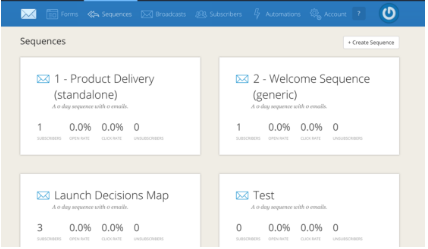 #5. Landing Pages
ConvertKit has done a pretty nice job with the landing pages, in my opinion. There aren't as many templates and such as say LeadPages, but you know what? For being included in the price of your email marketing and having a few solid templates that are modern, clean and easy to set up, you can't beat the simplicity.
And if you decide to upgrade to LeadPages or some other 3rd party tool in the future, you can still connect those to ConvertKit easy peasy.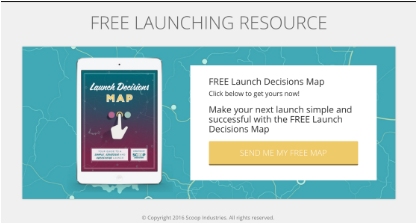 #6. Webform Options
In addition to great landing page options, the webform options are even better. You have the ability to use a variety of different pre-designed templates including "naked" and "minimal" forms that will blend seamlessly into your website or blog design.
You can create click to pop-up forms, slide in forms, exit intent pop-ups, and more.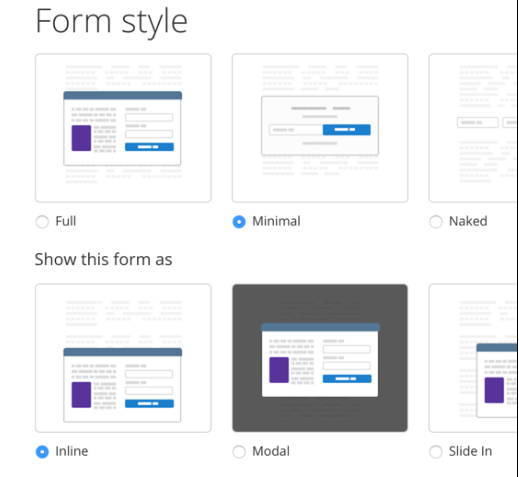 #7. Free Trial
Who doesn't love a free trial? There's nothing better than being able to try before you buy and I know it would have saved me so much money in my business being able to ensure that a tool is the perfect fit first!
If you're liking what you're reading so far, I'd love to invite you to a free Convertkit trial. As a ConvertKit Certified Expert, we can offer you this exclusive 30 day free trial so you can get in and start trying out these great features for yourself.
And BTW, no other big email platform offers free trials like this. (Another reason ConvertKit steals my heart!)
#8. Link Triggers
We're getting a little more geeked out here… but stick with me.
Link triggers are the secret weapons of segmentation and figuring out your reader's interests and understanding their behaviors. It's like a little stealth survey mode. In a nutshell, here's how they work.
For any link you have in your emails you can set up an automation that applies a tag of your choice to that contact when they click the specified link. And you can have multiple of these!
One simple way to start gauging interest is to tag your links to your blog with the topic or category that blog falls into. You'll be able to easily gauge after a few emails which topics are the hottest with your audience.
From there, you can give them more of what they love and they continue to engage with your emails – win-win for everyone.
#9. Intuitive Sequencing
I love how ConvertKit does their sequences, which is another name for an autoresponder series. It's super intuitive and cleanly laid out.
There's no guessing when an email is going to go out or how it's going to look. There's also a very cool feature that allows you to automatically exclude subscribers based on tags if you want to. So if you have a welcome sequence start for all of your opt-ins, you can automatically exclude anyone who has your main newsletter tag since they don't really need to be welcomed as they are already part of your community.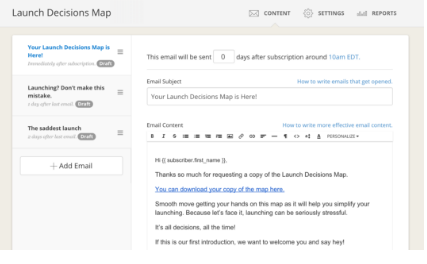 #10. Top Referrers and Campaign Tracking
I saved perhaps the geekiest of them all for last. That said, you can't improve what you don't measure.
So everyone should love this one as much as I do. ConvertKit automatically tracks your top referrers to your forms and landing pages.
You can also set up campaigns to track different initiatives you might have going on such as Facebook ads or partner promotions. Having insight into this data helps you get a real grip on where you should be spending your marketing time (and dollars).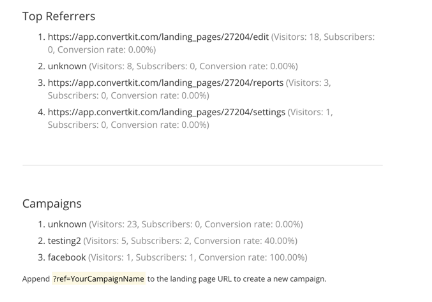 There you have it, 10 reasons we love ConvertKit including the amazing price of ConvertKit. If you want to learn more about ConvertKit, head on over to our Getting Started with ConvertKit resource page, or you can sign up here for a free trial now.