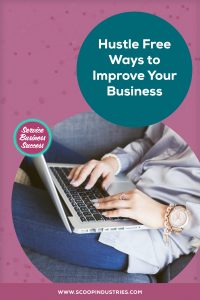 While there's definitely a time to hustle hard in your business, you simply can't hustle ALL the time. But how do you keep improving when you're not in hustle mode? We're sharing some proven hustle-free ways to keep optimizing your business and growing it the right way.
In episode 55 we talked about our fave ways to grow a services business – so don't tune out – this is completely different. This goes way beyond growing into building something sustainable. A business you actually enjoy and are excited to work on.

Here's the scoop from Episode #56:
We have five main categories that we are focusing on today.  Here's a sampling of what go into detail about:
Money
Weekly money dates – when you know what's happening you're WAY less stressed

Track each day how much money you bring in

Have a giving plan for your business

Complete monthly or quarterly expense reviews

Build a buffer
Time Management
Use a scheduler to avoid the calendar back and forth dance

Pad your schedule to stay out of your inbox

Tame your tech – stay offline when you need to be most productive

Use timers to gamify things and help boost when motivation is just not there
Client Work
Create standard templates for key tasks so you can add value without adding work (example – checklists)

Set a time for your project management and stick to it

Send your fave clients a surprise – a card, flowers, a fav book

Remember anniversaries and birthdays

Check-in on a regular basis whether by phone or in your PM system
Mindset
Meditation

Schedule time to read business books during the day, not at night

Schedule time every week for you to be "creative"

Get moving – walk or bounce or yoga breaks

Gratitude practices

Journal
Fun
Schedule a monthly celebration

Treat yourself – even a fun lunch goes a long way

Schedule time to see your biz friends locally or for a biz vacation

Set a goal with a big reward and make it a game to get it

Get flowers for your office

Schedule a monthly celebration
And finally, booking out your services can be fun too!  To get our handy Booking Out Your Services guide – for free – you can text BOOKOUT to 44222 (if you are in the US).  
Links for this show:  
[embed_popupally_pro popup_id="16″]