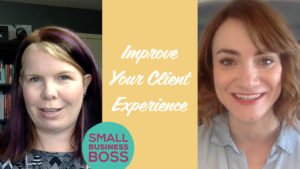 As a services business owner, the dream is to have loyal clients who can't help but spend more money on our services and refer new clients to us.
Making that dream a reality starts with creating an outstanding client experience. And the good news is that client experience is usually something you can quickly improve upon.
In this video, we're sharing three of our favourite simple strategies to improve your client experience.
#1. Set Regular Check-Ins with Clients
This one probably sounds obvious, but it's actually harder than it seems. It's easy to let checking in with your client slip through the cracks especially when other clients are keeping you busy.

A regular check-in could be a call scheduled at a set time, a weekly update or a project check-in. It doesn't have to be fancy or require a huge time commitment.

The goal is for your client to feel taken care of. (And yes, I mean even your smallest client.) Because the moment your client has any doubts is when things can get rocky – or at least annoying for you.

Regular check-ins are designed to prevent your client from coming down with a case of the "what abouts". You know, that thing where you find yourself peppered with questions like…What about this? Where are we with that? Are you taking care of this? Are we on track for that?

Basically, they're all the questions that make you cringe. And the best way to avoid being in this situation is by cutting off doubts before they start. You want to be proactive about keeping them in the loop so they never think "what about" ever again.

Consistently checking in and updating your clients means you're keeping the lines of communication open and they'll feel confident that you have everything under control.
#2. Use a Project Management System
Hint: your inbox is NOT a project management system.
In addition to regular communication, giving your client visibility into what's happening on a day-to-day basis can go a long way in keeping your clients in the loop.
When you use a project management system, you have your to-do lists and client files in one central place. This helps eliminate questions and confusion over what's happening or who's doing what. With a PM system, it's easy for the client to login and see what's going on and what you need from them.
Plus, a project management system makes YOUR life so much better by getting you out of your inbox. (Even better, if you deal with any team members on the projects, it makes everything flow much, much smoother – for you and the client.)
When you're organized and calm, the client experience is automatically that much better.
#3. Plan to Go the Extra Mile
As one of our Double It mentoring clients once said:

"Most people provide crappy service, so if you can be one level above that, you're winning."

In my experience, this is 100% true. If you want to improve your client service, plan to go the extra mile. Going above and beyond doesn't have to be totally over the top. Small things can go a long way.
Whether it's a handwritten card or not charging them for a little thing they ask for (do this by baking it into your plan in advance), it's small gestures that show your client how much you value and appreciate them.

Never underestimate the impact of using your time to wow them. For example, quickly hopping on a call when a client needs to talk something through can be a tangible way to show you're invested in their success.

I definitely know how important boundaries are with clients but don't be such a hardass that working with you feels impersonal. The best client relationships I've had over the years are personal and we connect on a human level. No one wants to work with a robot.
Get Into Action
This looks pretty easy, right? So now it's time to get going on your next steps.
Get started by looking at your client roster and if you don't already have a regular form of communication with your clients, get them scheduled this week.
You can always use an email check-in if you can't get them on the phone, but checking in 'live' can go a long way in establishing and maintaining a relationship.