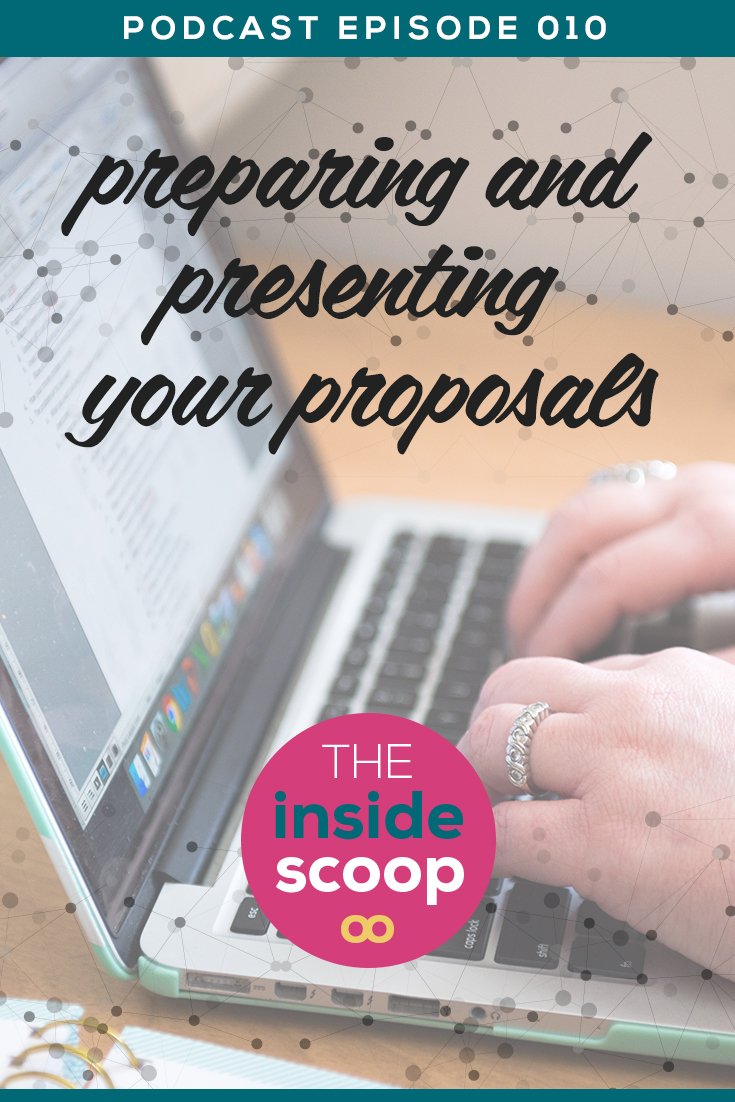 In this episode we're talking about all the ins and outs of proposals. They're critical to many service-based businesses, but how do you prep and present a proposal in a way that gets your would-be client to say yes? Get out your notebook as this episode is super practical and will help you write proposals that your would-be clients love.
Here's the scoop from episode #10:
Proposals are the lifeblood of your business, they are not boring!

It's really easy to get stuck on the details: what to include, how much information to give, etc.

When creating your proposal, let it be dictated by the price: there's a big difference in the time and effort put into a much more expensive proposal versus a lower priced one

We share some of our time saving tricks we use when we're preparing our proposals

As long as you make a personal connection with the client, it's okay to use the same content as previous proposals

If you find that you are constantly fine-tuning your packages for each client, there is either something off in your packages or you are letting your clients be too nit-picky

We share some of our must-haves in our proposals

When starting to work with a longer term client and providing complex services, start with a proposal for only one service at a time: it sets the stage for how you will work together and doesn't overwhelm the client

Remember in a proposal: you are setting expectations for what you're team will do but you are also setting expectations for the client

You are not running your client's business for them: they need to show up and do the work along with you

The more clear your proposals are, the less surprises will crop up as you work together

Don't put your creative ideas in the proposal: some people are just looking for the ideas, don't do consulting work for free!

Make sure you're pricing is very clear in your proposal: too many options is not a good idea

The most critical part of a proposal is the closing: be very clear on what their next steps will be

Make sure to include the time frame in the closing: make sure there's a deadline for them to pay so you can complete the work within the time frame they gave you

We talk about the look of your proposal and how to think about the user's experience as they go through the proposal

We use bidsketch, we explain why we love it so much and how much it has helped our proposal process

We are releasing a new audio case study! We give you the info


Links for this show:
Access our Audio Case Study Training here!
How to Rate and Review the Inside Scoop Show
[embed_popupally_pro popup_id="9″]