It's halfway through 2017 so how are you doing on achieving your goals?  We're kicking off a new series focusing on productivity. We are going to help you use those hazy, crazy days of summer to help you rock out the rest of the year.  

Here's the scoop from Episode #66:
We know you have been focusing on doing all kinds of goal setting, planning, 90-day check-ins, etc.  And those are all definitely the right things to be doing.  We know that goals can make you can feel like crap if you think you aren't meeting them. Especially if that is because there are so many systems out there that claim to make you so much more efficient. Don't buy into that. Check your gut. f you think you are doing the best you can, then you probably are. It is more about refining what you are doing and consistently improving. So let's break this down:
Revisit your Priorities:
The origin of the word "priority" was meant to be singular.  Seriously. Now, we probably all have a top 2 or 3 priorities, but if you have more than that, you should really consider reassessing that. A priority is something that is overarching to a goal. It is really, really important. The goals should be set with the priority in mind.

When you have a clear, and limited, set of priorities, it enables you to focus your goals.  

It enables you to give your business, and your life, shape. Less is definitely more in this case.    
Getting clear on what you want:
Get clear on what YOU want. Not what your business associates, your partner or mom thinks you should be doing in your business, your Facebook trolls, etc.  What YOU want.

So, you want to make X amount of dollars – why?  Why is that the magic number?  What do you want to achieve that?  Really unpack your attachment to whatever it is and understand what is driving you in that direction. What you

think

you want isn't always what you

really

want.

When you realize what you really want, it can be sooooo scary.  And what you want will change over time so regularly check in with yourself.

In a

recent podcast with the creator of The Girls who Code

, she said that girls are raised to be perfect; boys are raised to be brave. As female small business owners, we need to work against that programming and figure out for ourselves what we want.

This hard – we know that. And if this is scary for you now, just file it away for something to do later when you are ready.  
Operationalize:
Figure out what it takes, really takes, to meet those goals.  

Break it down into bite-sized pieces. The more you break it down, the more likely you are to succeed.

This the part that is more important than setting the goal. If you don't figure out how to operationalize your goal, you will probably not achieve it.
We will go deeper into how to operationalize your goals in the coming episodes.  Specifically, learn all about planning your month in the next episode. Be sure to join us for that!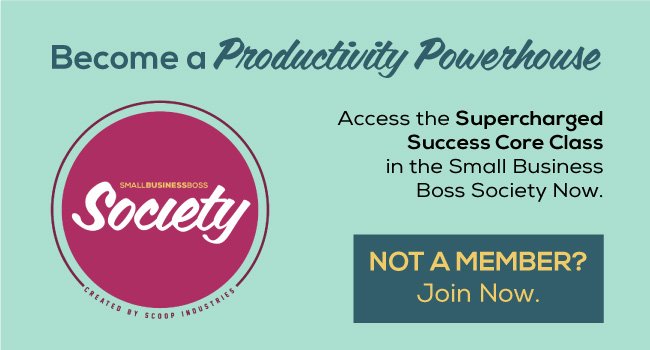 Links for this episode:
If you missed any podcasts and want to get caught up, you can click here to find all of our previous episodes on the Podcast landing page.