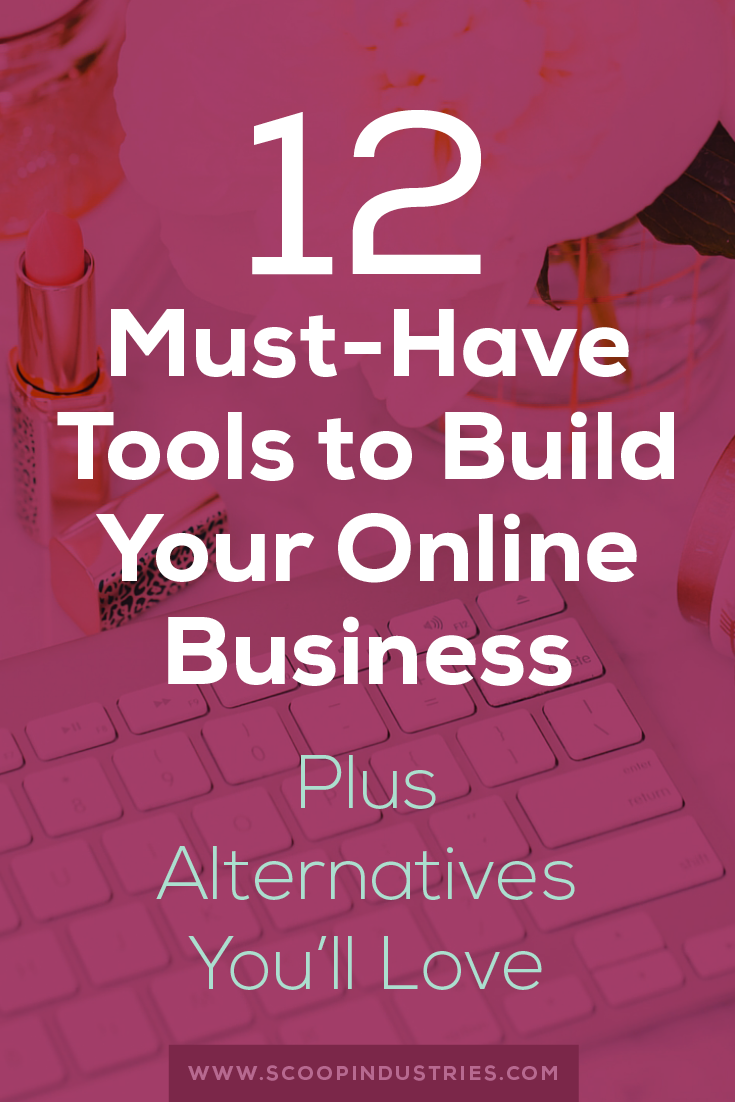 I remember, a few years back, when I was first dipping my toe into the online world.  

I'm semi-technically inclined AND I'm a big fan of finding ways to make things simpler when running my business. But the sheer number of options made me want to cry.

My head was spinning as there are SO many tools and it's next to impossible to know what tools to actually use. From payments to websites to productivity – it's enough to make you want to run away screaming and do something else.

But you know what helped? Reading blog posts like this one that shared what tools people actually used, how they used them, and looking beyond the features to figure out what made the most sense.  That really helped me decipher where to get started so I wanted to create my own version now, sharing not only what tools we use, but what tools we recommend to our clients.

Here's a quick rundown on our must-have tools for running an online business:
For Project Management: Basecamp  
Our team is all about Basecamp (Basecamp 2 for the record). We live and die by Basecamp and use it every work day. We're able to manage multiple client projects, internal projects and files. Plus, everyone knows where things are and all of our templates are all set up.
We also use Slack for quick questions and to chat amongst our team. The key for us is to make sure that we put any tasks or key items we've discussed right back into Basecamp.
Alternatives for you to check out: Asana, Trello, Teamwork PM
File Management: Dropbox, Amazon S3 and Google Drive
We've got a lot of files. Not even kidding. From client files to documents to images and much more. We use each of these items for different purposes:

Dropbox: Primarily for images and large files we need to share. I tend to store my video content on Dropbox as well as an external hard drive.
Amazon S3: We use this to host all of our PDF-based opt-in content and course worksheets.

Google Drive: All of our documents and spreadsheets are created and live here. We love it for easy sharing, and the search function to find that document from two years ago is amazing. Plus, you'll never have the whole "my computer crashed and now it's gone" moment ever again.
Alternatives for you to checkout: I'm sure there are some, but honestly, these are the ones pretty much every single person I know uses. Best of all, they are super affordable and reliable.

Websites
All of our sites are built on WordPress. We've got a number of sites, and they're all WordPress-based as it's the most robust and flexible platform around. Right now we've got the main Scoop site, our Inside Scoop Academy member's site and a few other microsites.

We use the self-hosted version of WordPress, with our sites maintained by Alison and the team at tiny blue orange and then hosted by Flywheel.
For hosting, we also recommend WPEngine (where our members' site lives) and Bluehost.

For your site, a good alternative is Squarespace. What we love about Squarespace is that it's hosted  and you don't have to mess around with backups. If you're just getting started, it's a great option and allows you to get started quickly.
Landing Pages & PopUps
If you're using WordPress, you've got some great options for creating easy landing pages and popups for your site. We personally use LeadPages (including Leadboxes) as well as PopUp Ally.
We love Leadpages for quickly creating opt-in pages for webinars and opt-ins. And we use Leadboxes on our blog posts for content upgrades and other offers to our readers. They're easy to setup and integrate, even if you're not really techy.

Popup Ally is incredibly powerful and if you hate passive aggressive popups, you'll love it. It's designed to be a "polite" popup that you can use site-wide, on specific posts, at the end of blog posts and more. It integrates seamlessly with most email service providers.
Alternatives to checkout: There's no shortage of popup providers, but two we've used are SumoMe and Opt-in Monster. As for landing pages, if you're using ConvertKit, you can use their landing pages and forms, and we've had clients use Instapage and Unbounce with solid results.

Meetings & Conferencing
From webinars to calls, it's hard to know what to use. But after trying so many of them, we've got some clear favorites.

For webinars and video conferencing, we love Zoom. It's definitely on the pricier end of things, but it's incredibly stable.  

As for calls, we also use Uberconference and Skype. Both are super affordable and you can't beat the ease of use.
Alternatives for you to checkout: For webinars, WebinarAlly + Google Hangouts or Go To Webinar are both great options.
Email Service Providers
We currently use Infusionsoft, and you can read up on the experience I've had in the last two years with this tool. The truth is, while I love Infusionsoft and how comprehensive it is, it's not a starter tool, and many businesses don't ever need it.

We've got many clients currently using ConvertKit and we highly recommend it. It's at a low price point and offers the email functionality that most people need as they grow. (More so than list-based systems such as Mailchimp, Aweber or Constant Contact.)

We're specialists in email marketing (as well as ConvertKit Certified Experts, and Infusionsoft Certified Partners) and we've worked with most of the popular email systems at this point. So we stand firmly behind our recommendation of ConvertKit – and you can sign up for a free trial of this tool here.
Alternatives to check out: There's no shortage of alternatives. For an advanced system, you can look at Ontraport and for more affordable, less robust ones, you may want to look at ActiveCampaign.
Proposals & Contact Management
If you work with clients, you're going to need to prepare proposals, quotes and keep track of your contacts.

For proposals we LOVE Bidsketch. We've been using it for six months and it's saved us so much time and energy. It lets you set up templates, send the proposal electronically and it looks good too.

Have you ever missed out on an opportunity because you forgot to follow-up? Yep, it happens. But with Contactually, those days are over.  You'll have complete control over everyone and everything you need to follow-up on.  You can add canned responses, set reminders and so much more.
Alternatives for you to checkout: For proposals, you can look at Quoteroller and for contact management, you could use your calendar + a spreadsheet to make it all work.
Scheduling

No more calendar drama with a scheduling tool. Our fave is ScheduleOnce and we're able to use one account for multiple booking links for the Scoop team. It integrates seamlessly with Google Calendar and we love being able to specify different blocks of time for different types of meetings.

Alternatives for you to checkout: Calendly has an amazing interface and we've got lots of people in our world who love Acuity.
There are so many tools you can use in your business, and we've just touched on a few here to help you with some of the fundamentals.
We've created a comprehensive list for you that you can download for FREE below to help you assess the right tools for your biz.
**Some of the above products are partner links meaning we receive a commission if you purchase or subscribe to them. We recommend only tools we 100% stand behind and would include them in this post no matter what.**